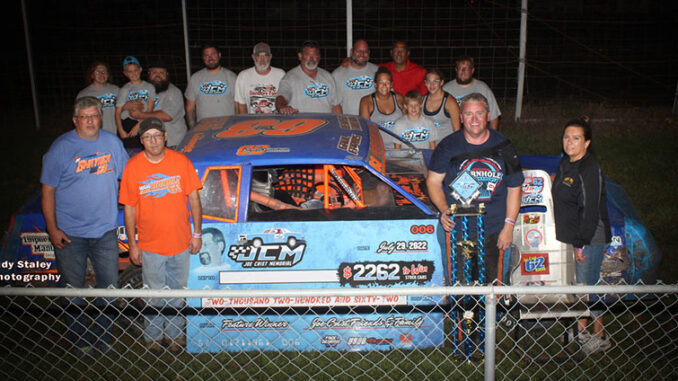 By Rick Staley
OSBORN, Mo. (July 29, 2022) – Mike Nichols had to give a 10 to his 10th IMCA Sunoco Stock Car feature win of the season. 
Nichols became the sixth different winner in as many years US 36 Raceway has hosted the Joe Crist Memorial, earning $2,262 for the Friday night victory at Osborn.
"They had 30 cars there and any time you've got that many Stock Cars together, you're bound to see good racing," Nichols said following career checkers number 593 in the division.
Derrick Agee, Danny Holt and Brandon Williams were among the first to fight it out for the lead with each taking a turn out front. Agee held off Holt, who then charged by on the outside.
Defending race winner Travis Barker made his own move toward the point only to see Nichols come from the outside row five starting position to challenge.
Brandon Williams was fast all feature and made his presence known as well as the race progressed as did Chad Clancy. In the end, however, Nichols took the win with Barker slipping by Clancy to place second.
Nichols counted the Missouri Nationals victory at Osborn last October among four previous B & B Racing Chassis All-Star Invitational qualifying wins. He's now racing with a bum left shoulder after rolling a lawn mower but is still getting around the track the fastest.
"I've been pretty good here in the past. There are a lot of memorial races out there and this is one of them that is really special," he said. "They pay hard luck, hard charger, long tow and the heat race winners."
"It's different than a lot of specials because of the full-scale participation by the family. It's like the Pelster Memorial at Boone County Raceway that way," Nichols added. "It's pretty special."
JJ Baumli won the Shocker Chassis Six Pack Shootout.
Jace Whitt topped the Friesen Performance IMCA Northern SportMod feature, Dillon Raffurty was the IMCA STARS Mod Lite winner and Jason Teel took top Mach-1 IMCA Sport Compact honors.
Stock Car feature results – 1. Mike Nichols; 2. Travis Barker; 3. Chad Clancy; 4. Danny Holt; 5. Derrick Agee; 6. Brandon Williams; 7. JJ Baumli; 8. Tim Eaton; 9. Shay Woods; 10. Conner Masoner; 11. Randy Smith Jr.; 12. Nate Barnes; 13. Nate Desive; 14. Clay Hale; 15. Josh Steele; 16. Matthew Lance; 17. Ricky Couch; 18. Carson Masoner; 19. Brad Whitney; 20. Blake Peeler; 21. Mich Ross; 22. Jason Ryun; 23. Jason Estes; 24. Brandon Beam.