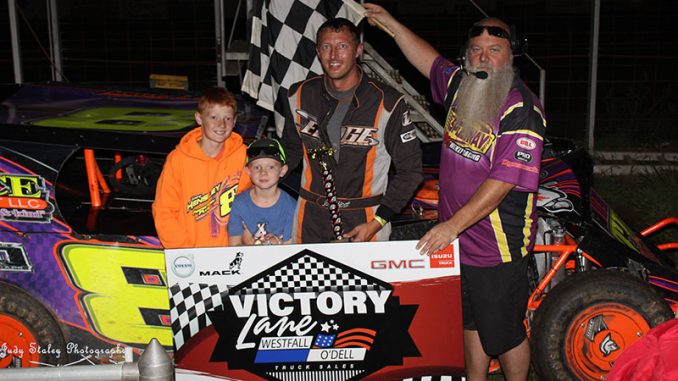 By Jacob Blair 
OSBORN, Mo. (Aug. 2) – Every division had an increased payout on the line Friday at US 36 Raceway, but the IMCA Modifieds had the most to fight for with a $1,500 check going home with Josh Most, winner of the Modified Blowout presented by Lent Prints.
Clay Hale and Steven Bowers started the race from the front row for the 25-lap race, with Bowers taking the advantage into the opening corner. While Bowers paced the race early, Most began working his way from eighth starting. Most moved through the field by running alternate lines from the rest of the field.
Most had moved to third before the yellow flew on lap seven. On the restart, Most advanced to second while Chad Clancy moved into the picture as he took third, after starting 11th.
A few laps after the restart, Most and Bowers made contact in turn one. Most let Bowers collect himself before making another attempt at taking the lead away. After an intense battle, Most took the lead from Bowers.
Most opened up a comfortable lead by lap 20 as both Bowers and Most had driven away from the field and entered lap traffic. While those two worked through the traffic, Shayne Bailey and Clancy battled for third.
With battles all over the track and only a few laps left, Bowers chased Most down and the two re-engaged in their battle for the lead. Most took a three-car length lead into the white flag lap. Most bobbled in turn one and Bowers closed to his back bumper into turn three.
Both took the high line and the two almost made contact. Most stayed high, while Bowers pointed his car to the bottom. The two raced door-to-door to the line with Most earning the win and a Fast Shafts All-Star Invitational ballot berth by less than two tenth's of a second over Bowers.
Bailey won the battle for third, pushing Clancy to fourth. Cory Wray ran a steady race to finish fifth.
J.J. Baumli has now cashed in on over $2,200 over the past two weeks as he picked up his second four figure win in a row, winning the $1,000 to win IMCA Stock Car feature.
The first half of the race saw Baumli run the high side to work into the top three from ther ninth starting spot. Baumli eventually made his way around Jason Estes and then dominated the final restart to pick up the win.
Karl Kustoms Northern Sport Mods also had a $1,000 check ready for the winner at the end of the night. Steven Clancy started on the pole and had the dominant car early.
While Clancy paced the field, Chase Rudolf worked from his seventh starting to second. Rudolf showed his nose several times, but never could make the move. Clancy got his sixth win of the season.
Feature Results
Modifieds – 1. Josh Most; 2. Steven Bowers Jr.; 3. Shayne Bailey; 4. Chad Clancy; 5. Cory Wray; 6. Jeff James; 7. Clay Hale; 8. Greg Querry; 9. Zack Gilmore; 10. Michael Dotson; 11. Tony Manley; 12. Dustin Miller; 13. Benjie Douglas; 14. Jim Masoner Jr.; 15. Chad Andersen; 16. Jacob Brock.
Stock Cars – 1. J.J. Baumli; 2. Steve Starmer; 3. Connor Masoner; 4. Thomas Roberts; 5. Billie Hoover; 6. Brad Whitney; 7. Carson Masoner; 8. Calvin Teel; 9. Blake Peeler; 10. Gerald Wahwahsuck; 11. Brock Badger; 12. Jason Estes; 13. Keith Simmons; 14. Mich Ross.
Northern SportMods – 1. Steven Clancy; 2. Chase Rudolf; 3. Tim Eaton; 4. Trevor Noonan; 5. Jeffrey Sears; 6. Jeremy Pittsenbarger; 7. Garrett Nelson; 8. Coleman Browning; 9. Tommy Hensley; 10. Colton Nelson; 11. Justin Marrant; 12. Matt Lent; 13. Cade Richards; 14. Randy Smith Jr.; 15. Shane Noble; 16. Josh Munsen; 17. Chris Wright; 18. Arron Duvall.