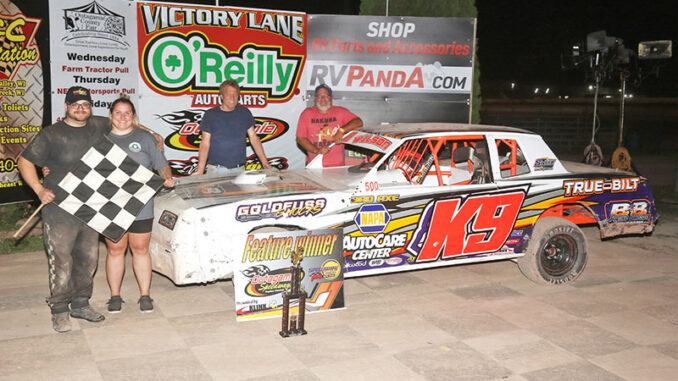 SEYMOUR, Wis. (July 28, 2022) – Tyler Wilson achieved two goals with one win on fair night at Outagamie Speedway.
Driving for John Heinz, Wilson raced to his career first IMCA Sunoco Stock Car feature victory on July 22 at Seymour.
More notably, the checkers gave him one or more wins in a fourth different sanctioned division, an accomplishment of which just a handful of IMCA drivers can boast.
"I was bummed about starting 10th but it was pretty cool to be able to drive through the field and win," said Wilson, from Little Suamico. "I was pumped. It was a goal of mine to win in all the IMCA divisions we have around here. It was a pretty cool goal to achieve."
Wilson started racing at the age of 14 after coming home from school to find the car his father Troy, a long-time street stock hotshoe, had bought for him.
He won his first IMCA Sunoco Hobby Stock feature in 2009, his first Friesen Performance IMCA Northern SportMod feature in 2012 and his first Friesen Performance IMCA Modified feature in 2014.
The defending Modified champion at Outagamie, Wilson had a win and three top five finishes to show for 10 starts in that division before making his first outing in The Class Too Tough To Tame.
"John is a family friend and asked if I'd like to drive a Stock Car at 141 Speedway's King of the Creek and the Eric Van Iten Memorial at Luxemburg," he explained. "I was super excited because I'd always wanted to race a Stock Car."
"A Stock Car has more horsepower and it's heavier," added Wilson, a quick study behind the wheel of Heinz' B & B Racing Chassis ride. "It's harder to keep the car straight than when you're in a Modified and you enter the corners straighter instead of sideways."
The win at Seymour came in his sixth sanctioned start. Wilson had parked the Modified to focus on the stiff competition in a single division that evening.
"I think Wisconsin has some of the best drivers in both the Modified and Stock Car divisions in IMCA," said Wilson, now 80-odd checkers behind his car owner on the all-time wins list for the Stocks. "There are quite a few guys I'm racing with in both classes now. Racing with guys like Benji LaCrosse and Mike Mullen doesn't make it easy for me to win, but it makes me a better driver."