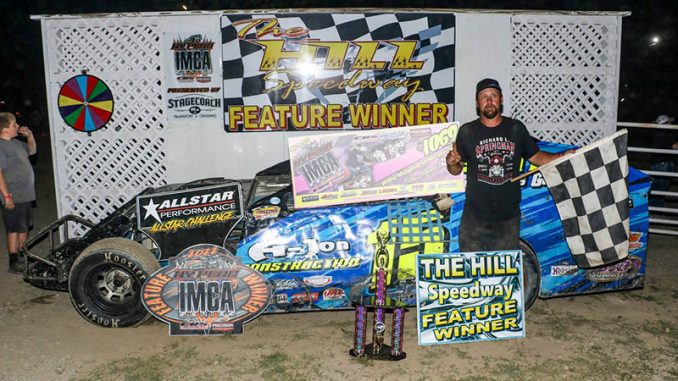 By Evan Canfield 
MONROETON, Pa. (July 8, 2022) – The up and down season for Eddie Sites took another high as the Towanda driver scored his fourth victory of the season in dominating fashion as the Close Racing Supply NY-Penn IMCA Modified Series presented by Precision Hydraulic & Oil made its return to The Hill Speedway for the Billy Maynard Memorial. 
Sites' latest Friesen Performance IMCA Modified victory was good for $1,069. Ray McClure and Gary Lamphere completed the top three at Monroeton.
Two-time tour winner Rodney Morgan started the 25-lap feature on the front row with series rookie Jason Sullivan alongside.
Morgan jumped out to the initial lead with Brad Sites looking to challenge before his lap five spin brought out the first of what became back-to-back cautions.
Seventh starting Eddie Sites then worked his way around the outside of Morgan to take the top spot away.
A series of yellows followed but the final five laps ran out with Sites, already Fast Shafts All-Star Invitational qualifying eligible, taking the dominant victory.
The next race for the NY-Penn IMCA Modified Series will be at Clinton County Speedway on Aug. 13. It will be the first time that the series will be in action at the Mill Hall, Pa., oval.
Feature results – 1. Eddie Sites; 2. Ray McClure; 3. Gary Lamphere; 4. Jake Maynard; 5. Aaron Benjamin; 6. Rich McNeal; 7. Keith Lamphere; 8. Jason Sullivan; 9. Rodney Morgan; 10. Lance Conely; 11. J.W. Lamphere; 12. Harry Ely; 13. Bobby Maynard; 14. Matt Benjamin; 15. Shawn Bruce.