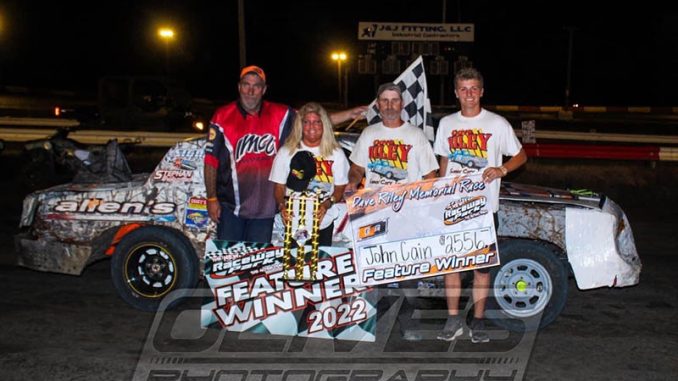 JEFFERSON, S.D. (July 3, 2022) – The money didn't matter as much as winning the race did when John Cain took the checkered flag at The New Raceway Park's Dave Riley Memorial. 
Piloting a car his friend had helped build more than a decade ago, the Homer, Neb., veteran moved to the front early in the 20-lap main event, avoided contact with a lapped car late in the contest and held off Brandon Bombardo down the stretch for the much hoped for victory.
"Dave and I were close. We talked every day and I think he's the only one who drove this car other than me. It's been around the block a few times," Cain said. "I had to have this win. I was going to pull out all the stops because I had to win it."
"I knew we had tough iron ahead and behind me at the start but we pulled it off," he continued. "With guys like Tony Fetterman, Joel Magee and Dillon Richards there we knew we were going to have a tough go on this one but we pulled it off."
"It was unbelievable."
A steady stream of contributions to the Sunday purse from fans and sponsors pushed Cain's share to a career best $2,556. His third feature win of the season, all of them coming at The New Raceway Park, was his IMCA 52nd.
The event was held on what would have been Riley's 50th birthday. Craig Clift, David Miller and Fetterman chased Cain and Bombardo across the stripe.
Jim Thies was the Friesen Performance IMCA Modified winner and Todd Gereau topped the IMCA Sunoco Stock Car feature. Rusty Montagne paced the Friesen Performance IMCA Northern SportMods and Connor Brown was best in the Mach-1 IMCA Sport Compact main event.