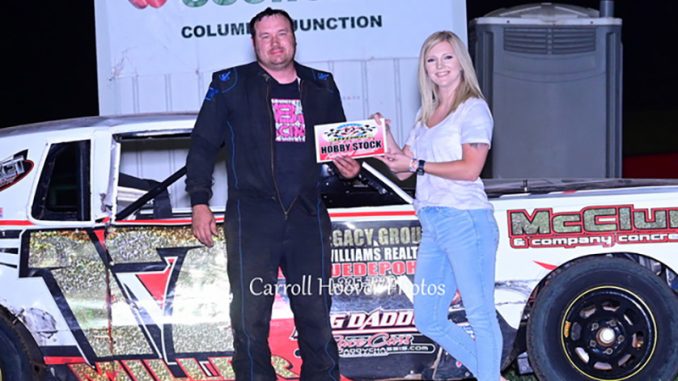 COLUMBUS JUNCTION, Iowa (June 24, 2022) – Jared Miller has seen his motor luck go from bad to worse so far this season, but still had a good feeling going into his IMCA Sunoco Hobby Stock main event Friday night at CJ Speedway.
Those positive vibes became reality after the West Branch driver drew the pole start and held off heavy hitters Randy LaMar and John Irwin following a late restart for the checkers.
The win was his career second in the IMCA class and first since 2010 at then-hometown Marshalltown Speedway.
"We've blown up four engines so far this year, including one leading the feature here at Columbus Junction a couple weeks ago," said Miller. "But I had a good feeling about tonight. I thought if I made it through the heat race and everything stayed together I had a good chance to win."
He had started the night by winning his heat, then went to the top side, held his line and outran all challengers following that late yellow.
"The caution came out on the white flag lap and I thought to myself 'this is going to be the way I lose it' but it all worked out," Miller said. "I was happy just to finish the feature and to win was great. It was nice to finally get one. CJ is hard to win at because there are a lot of good drivers here."
Miller became a weekly regular at CJ last season. After mowing lawns to buy his first race car at the age of 15, he's now a veteran of more than a quarter-century in the sport and works two jobs to pay the racing bills while doing almost all the wrenching on his car and sharpening his motor building skills.
He's already looking forward to that next trip to victory lane. 
"I really like racing here. The promoter (Larry Richardson) is a pretty good guy, the track is almost always pretty smooth and it's close to home," Miller said. "I plan to go back to Columbus Junction and see if I can do it again."