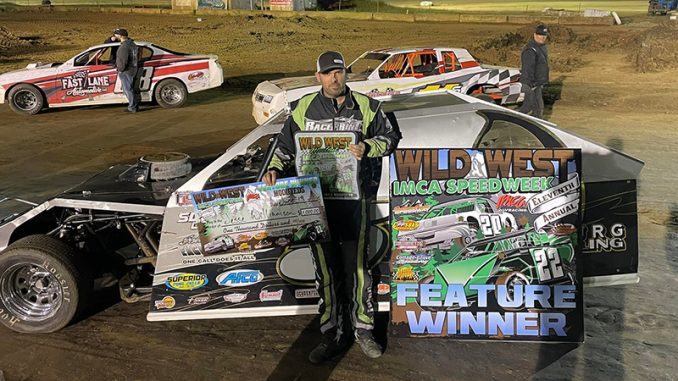 by Ben Deatherage
COOS BAY, Ore. (June 19, 2022) – The 2022 IMCA Wild West Shootout finally kicked off on Sunday after two nights of getting washed away.
Coos Bay Speedway had the Friesen Performance IMCA Modifieds, IMCA Sunoco Stock Cars and Friesen Performance IMCA Northern SportMods in the house. Sixty-nine entries were on hand among the three Speedway Motors IMCA Weekly Racing program divisions representing the states of Oregon, Washington, California and Nevada, as well as the Canadian province of British Columbia. 
Otis teenager Eston Whisler started the thirty-five-lap IMCA Modified main event with the race lead. However, Corbett's Collen Winebarger would overtake him the following lap. Winebarger, racing for car owner Jimmy Schram, would receive some pressure shortly after a lap five restart. 
Collen battled with Brad Martin with Martin obtaining the top spot on the eighth circuit. From there, an extremely long green flag run developed with no stoppages for 25 laps. With the lack of cautions, it brought lapped traffic into the picture. 
Jesse Williamson would track down Martin, and the two would have a close contest for the point. As the lap count continued to dwindle, Williamson navigated his way past Brad in traffic to get P1. Jesse fended off Martin for the rest of the distance to score the win.
Jesse Williamson became the first repeat winner at Coos Bay in series history after he topped the podium on June 20, 2013. Brad Martin was a respectable second, while Collen Winebarger ended the night third. Albany's Bricen James, in the Jerry Schram owned car, posted fourth, followed by Winnemucca, Nev. traveler Cory Sample in fifth. Devon Reed of Woodland, Washington, was the consolation feature winner. 
The IMCA Stock Cars made their first-ever trip to CBS. Chase Berkeley made the long trek from Colville, Wash., worth it by taking care of business. As a result, there would be just two yellow flags in the second half of the 25-lap feature. 
Berkeley took control of first place at the drop of the green. He would go unchallenged and dominate the entire race to go down as the first IMCA Stock Car winner in series history. Donald Schott beat out Kevin Roberts for the runner-up position. Jerry Schram earned fourth, with Graig Osborne grabbing fifth. 
Chase Berkeley made history by becoming the first IMCA Sunoco Stock Car winner in Wild West Shootout action at Coos Bay Speedway on June 19. (Photo by Jeremy Means)
Lastly, the IMCA Northern SportMods had a great race. Oakley, Cal. teenager Andrew Pearce pounced to the front of the rest of the pack on lap one. Unfortunately, Pearce had to deal with multiple restarts. A total of seven yellow flags were waved in the 25-lap feature. 
However, Pearce was hunted down just past the mid-point by Ryan Peery. Peery took over the position on lap 16. Ryan went practically uncontested the rest of the way to win the first official tour race for the SportMods. 
Andrew Pearce and Tanner Krohling were second and third. David Schmidt got fourth, while fifth went to Andrew Peckham.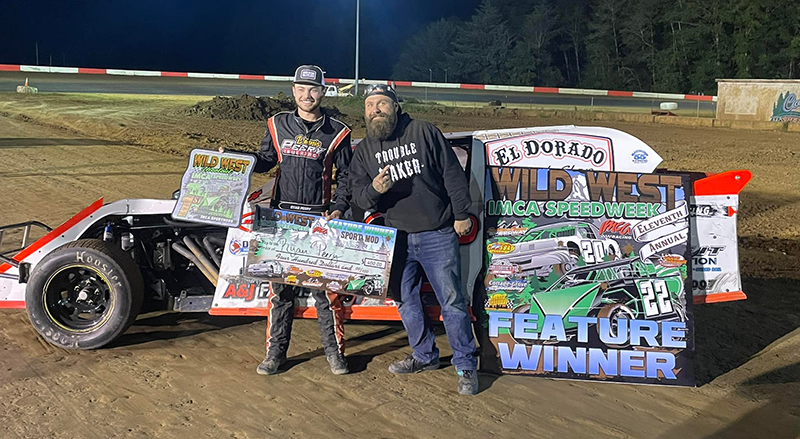 Ryan Peery took the Friesen Performance IMCA Northern SportMod checkers at Coos Bay Speedway during opening night action of the Wild West Shootout. ((Photo by Jeremy Means)
The IMCA Wild West Shootout returns to Coos Bay Speedway for night two. If you can't make it live in person, you can catch it all live on IMCA.TV. Also, check out the "IMCA Wild West Shootout" Facebook page for the latest news and information. 
FEATURE RESULTS
Modifieds – 1. Jesse Williamson; 2. Brad Martin; 3. Collen Winebarger; 4. Bricen James; 5. Cory Sample; 6. Buddy Kniss; 7. John Campos; 8. Eston Whisler; 9. Troy Morris III; 10. Jake Mayden; 11. Grey Ferrando; 12. Lawrence Oconnor; 13. Aaron Elwess; 14. Jon Debenedetti; 15. Ian Whisler; 16. Lane Zerbin; 17. Devon Reed; 18. Skyler Winebarger; 19. Chance Hyser; 20. Danny Lauer.
Stock Cars – 1. Chase Berkeley; 2. Donald Schott; 3. Kevin Roberts; 4. Jerry Schram; 5. Graig Osborne; 6. Toby McIntyre; 7. Steve Stone; 8. Kersey Ferrando; 9. Jeff Lovell; 10. Brody Humphrey; 11. Tiana Wild; 12. Joey Tardio; 13. Jeremy Brookshire; 14. PJ Humphrey; 15. Calista Johnson; 16. Peyton Reigard; 17. Dyllan Siewell; 18. Dylan Boyer. 
Northern SportMods – 1. Ryan Peery; 2. Andrew Pearce; 3. Tanner Krohling; 4. Dave Schmidt; 5. Andrew Peckham; 6. Daniel Ray; 7. Kenny Shrader; 8. Isaac Sanders; 9. Justin Ryker; 10. Trevor Tiffee; 11. Steven Sanders; 12. Garrett Hamilton; 13. Jordan Henry; 14. Raymond Bloom; 15. Dalton Bloom; 16. Ray Comer; 17. Trevor Points; 18. Matt Sanders; 19. Chester Kniss; 20. Chuck Carson; 21. Garrett Craig.
#StephanieStrong Hard Charger Award Winners courtesy of T.R. Points Trucking 
Modifieds- Bricen James 
Stock Cars- Toby McIntyre 
Northern SportMods- Andrew Peckham