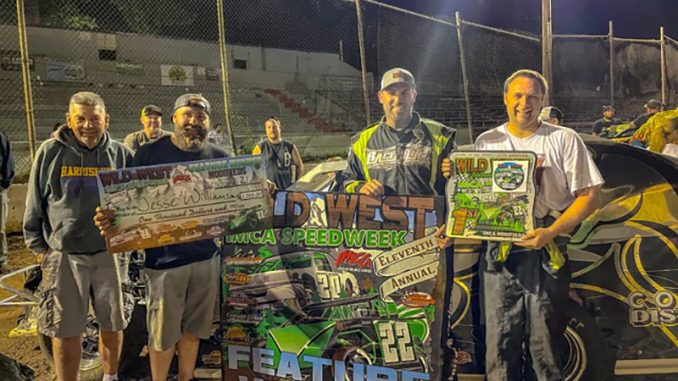 By Ben Deatherage
COTTAGE GROVE, Ore. (June 21, 2022) – Jesse Williamson and Matt Sanders made their way to victory lane and Zack Simpson made his way into the history book when Cottage Grove Speedway hosted the third installment of the IMCA Wild West Shootout.
Williamson raced to his second $1,000 Friesen Performance IMCA Modified victory on three Shootout starts, Sanders became the third different Friesen Performance IMCA Northern SportMod Shootout winner while Simpson won the first IMCA Sunoco Stock car feature held at Cottage Grove.
Eston Whisler set a torrid pace early in the Modified main, but the veteran Williamson reeled the leader in during a long green flag run and got the lead back on lap 28, then held off the young challenger for his career 17th Shootout victory.
Whisler was second while Jon DeBenedetti rounded up the podium. Ian Whisler and Collen Winebarger were fourth and fifth, respectively.
IMCA Stock Cars had their first-ever race in track history and it was a wild one. Toby McIntyre opened the 25-circuit main event by taking the point of the pack and taking off. However, he was caught and passed on lap 14 by Simpson, who dominated the rest of the race.
Kevin Roberts was second with Chase Berkeley third.
Last, there was a good race in the IMCA Northern SportMods. The 25-lap feature saw Sanders beat the field to the front on the initial start.
Sanders was chased down and passed on lap 16. However, the caution came out, the race reverted to the last completed lap and Sanders retained P1. Sanders then held on to win. Jorddon Braaten and Andrew Pearce were second and third respectively.
#StephanieStrong hard charger award recipients were DeBenedetti in the Modifieds, Berkeley in the Stock Cars and Garrett Hamilton in the Northern SportMods.
Feature Results
Modifieds – 1. Jesse Williamson; 2. Eston Whisler; 3. Jon DeBenedetti; 4. Ian Whisler; 5. Collen Winebarger; 6. Bricen James; 7. Aaron Sheelar; 8. Aaron Elwess; 9. John Campos; 10. Troy Morris III; 11. Cory Sample; 12. Brad Martin; 13. Lawrence O'Connor; 14. Danny Lauer; 15. Jake Mayden; 16. Buddy Kniss; 17. Austin McTaggart; 18. Chance Hyser; 19. Grey Ferrando; 20. Lane Zerbin.
Stock Cars – 1. Zack Simpson; 2. Kevin Roberts; 3. Chase Berkeley; 4. Toby McIntyre; 5. Graig Osborne; 6. Joey Tardio; 7. Jerry Schram; 8. Tiana Wild; 9. Donald Schott; 10. Brody Humphrey; 11. Jeremy Brookshire; 12. Dylan Boyer; 13. P.J. Humphrey; 14. Steve Stone; 15. Kersey Ferrando; 16. Calista Johnson; 17. Bob Bloom; 18. Sid Schott
Northern SportMods – 1. Matt Sanders; 2. Jorddon Braaten; 3. Andrew Pearce; 4. Kenny Shrader; 5. Dalton Bloom; 6. Kevin Williamson; 7. Justin Ryker; 8. Andrew Peckham; 9. Jordan Henry; 10. Garrett Hamilton; 11. Garrett Craig; 12. Trevor Tiffee; 13. Daniel Ray; 14. Theran Trissell; 15. David Schmidt; 16. Chester Kniss; 17. Hunter Bloom; 18. Ryan Peery; 19. Chuck Carson; 20. Trevor Points.