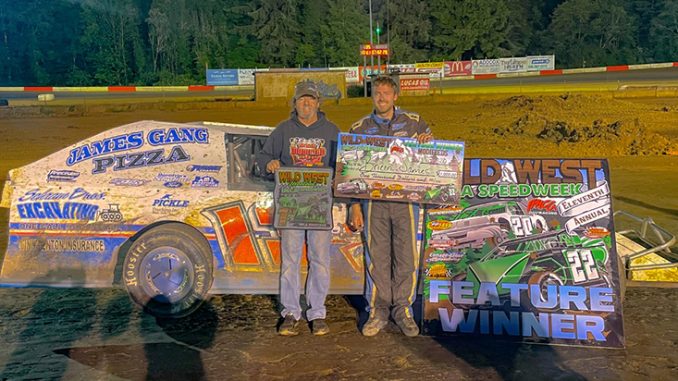 by Ben Deatherage
COOS BAY, Ore. (June 20, 2022) – Round two of the 2022 IMCA Wild West Shootout fired off on Monday and Coos Bay Speedway was once again the track to host the action.
The same three Speedway Motors IMCA Weekly Racing divisions were in attendance from the previous evening. They included the Friesen Performance IMCA Modifieds, IMCA Sunoco Stock Cars and Friesen Performance IMCA Northern SportMods.
Despite several cautions, the IMCA Modified main event was a barnburner. The 35-lap race started with Collen Winebarger beating out Grey Ferrando for the point. Winebarger was passed at the line on lap two but stayed near Ferrando and kept the pressure up.
Grey would feel some heat from both Winebarger and Jesse Williamson. Williamson would get around the both of them on lap nine and become the new leader. A long green-flag run developed, which allowed Winebarger to track down Williamson and overtake him on the nineteenth circuit.
The two would have a heated battle in which both of them, unfortunately, got tangled together on lap 28. This gave the lead to Bricen James.
Bricen James went on to win his second career series victory and first since 2018 at Willamette Speedway. Grey Ferrando ended the race second while third went to Troy Morris III. Brothers Eston and Ian Whisler were fourth and fifth in the finishing order.
Toby McIntyre had a splendid run in the IMCA Stock Car feature. The Coos Bay driver held on to P1 for most of the race despite numerous challenges for the top spot. But Kevin Roberts made the power move on lap 23 of 25 to become the new trailblazer.
Roberts held on to score the impressive win. Toby McIntyre was a respectable second, followed by Jerry Schram in third. Chase Berkeley managed to beat his sister Tiana Wild for fourth.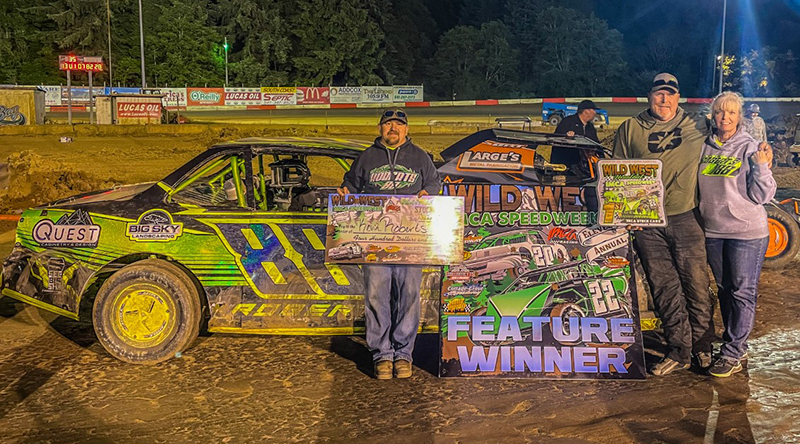 Kevin Roberts led the final two laps of the IMCA Sunoco Stock Car feature to drive to the Wild West Shootout victory June 20 at Coos Bay Speedway. (Photo by Jeremy Means)
Lastly, the IMCA Northern SportMods witnessed domination from Andrew Pearce. But it took six laps for the youngster to get to the head of the pack. Before that, Justin Ryker was pacing the field.
Pearce was able to stay in first place for the rest of the 25-lap race. Grass Valley, Calif. traveler Andrew Peckham was second at the line, with Justin Ryker earning third. Steven Sanders beat out his brother Matt for P4 in the finishing order.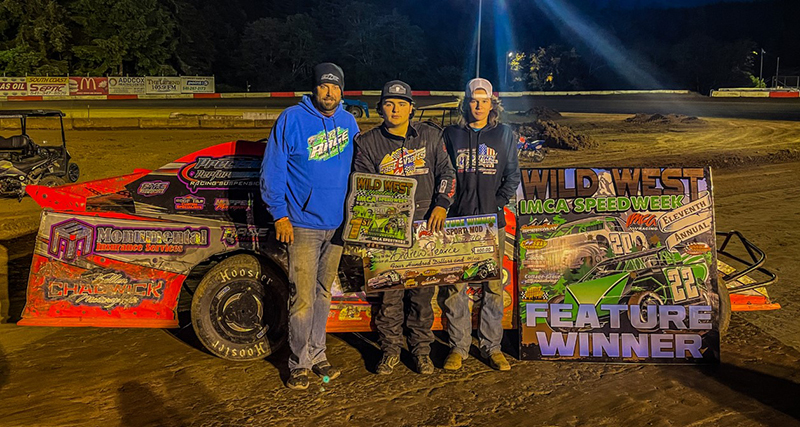 Andrew Pearce dominated the Friesen Performance IMCA Northern SportMod feature during Wild West Shootout action Monday night at Coos Bay Speedway. (Photo by Jeremy Means)
FEATURE RESULTS
Modifieds – 1. Bricen James; 2. Grey Ferrando; 3. Troy Morris III; 4. Eston Whisler; 5. Ian Whisler; 6. Aaron Elwess; 7. Collen Winebarger; 8. Lawrence O'Connor; 9. Jesse Williamson; 10. Cory Sample; 11. Kaity Sample; 12. Buddy Kniss ; 13. Devon Reed; 14. Roy Kirk Jr; 15. John Campos; 16. Danny Lauer; 17. Lane Zerbin; 18. Brad Martin; 19. Paul Culp; 20. Jon Debenedetti.
Stock Cars – 1. Kevin Roberts; 2. Toby McIntyre; 3. Jerry Schram; 4. Chase Berkeley; 5. Tiana Wild; 6. Graig Osborne; 7. Kersey Ferrando; 8. Donald Schott; 9. Brody Humphrey; 10. Zack Simpson; 11. Dylan Boyer; 12. Joey Tardio; 13. Calista Johnson; 14. Tyler Tullos; 15. P.J. Humphrey; 16. Jeremy Brookshire.
Northern SportMods – 1. Andrew Pearce; 2. Andrew Peckham; 3. Justin Ryker; 4. Steven Sanders; 5. Matt Sanders ; 6. Kenny Shrader; 7. Tanner Krohling; 8. Dalton Bloom; 9. Garrett Hamilton; 10. Trevor Tiffee; 11. Jordan Henry; 12. Trevor Points; 13. Chuck Carson; 14. Chester Kniss; 15. Ray Comer; 16. Ryan Peery; 17. Garrett Craig; 18. Daniel Ray; 19. Raymond Bloom.
#StephanieStrong Hard Charger Award Winners courtesy of Transaction Transmissions/Mandie Tardio at John L. Scott Reality/Shinglehouse Auto & Salvage 
Modifieds- Bricen James 
Stock Cars- Calista Johnson 
Northern SportMods- Matt Sanders