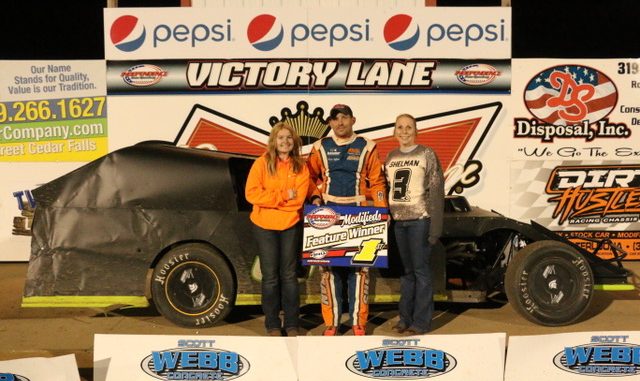 by Jeremy Fox
INDEPENDENCE, Iowa (June 18, 2022) – Saturday Night Independence Motor Speedway inducted the 2022 Hall of Fame class, including Rick Wendling, Darin Burco and Duane Van Deest for drivers. Special contributors inducted were Burco and Jerry Blue. Burco was the first to be inducted as a driver and contributor.
Following a hall of fame meet-and-greet and autograph session, over 100 race teams signed in to tame the 3/8 mile dirt oval on the Buchanan County Fairgrounds.
The first feature of the night was the 15 lap Friesen Performance IMCA Northern SportMod event. Robert Patava grabbed the top spot early, however Kip Siems stole the lead away from Patava on an early restart, Siems led until he slipped up on lap nine allowing Cole Suckow to take over the race lead.
Suckow led until lap 13 when Tony Olson took advantage of Suckow leaving the door open. Olson held off Suckow and Siems to take his 35th career win in Independence, his fourth straight win at Indee. Suckow finished second, Siems was third, Brandon Tharp was fourth and Kyle Olson was fifth.
Jason Hocken wrestled the lead early from fellow front starter Hannah Chesmore in the 20 lap IMCA Sunoco Stock Car feature event. Cole Mather took the race lead away and fended off Jason Doyle before pulling away until caution on lap seven.
Mather held off Kaden Reynolds and Doyle on the restart but saw the caution come out again on lap 11. Mather looked to be heading on to take the win but slipped up on lap 17 allowing Reynolds to grab the lead away. Reynolds went on to take his second feature win in Indee. Mather and Doyle finished second and third respectively. Twelfth place starter Steve Meyer was fourth and Tom Schmitt was fifth. 

Adam Shelman pulled away from pole sitter Jason Morehouse for the race lead and then distanced himself from the field in dominant fashion in the Friesen Performance IMCA Modifieds. Shelman was slowed by lapped traffic, but he was determined to not be denied his first Modified win. Shelman won the event by a healthy margin ahead of Mike Burbridge, Troy Cordes, John Emerson and Morehouse. 
Leah Wroten fended off Chase Jermeland early in the IMCA Sunoco Late Model 20 lap feature. Wroten looked to be heading on to the race win but slipped up on lap nine allowing Sean Johnson to take the lead away. Johnson pulled away and never looked back going on to take his third win of the season in Indee. Wroten held off Greg Kastli and Curt Martin to take second. Dalton Simonsen came home in fifth.
The final feature of the night was 15 lap IMCA Sunoco Hobby Stock feature event. Dalton Weepie grabbed the lead on lap five and set the pace until Tyler Ollendieck took the lead away. Ollendieck led the remaining laps to take his first win in Indee this season. Weepie, Brett Vanous, Adam Streeter and Shawn Kuennen rounded out the top five. 
A racer's memorabilia auction conducted by Greg Kastli during intermission raised $3,000 for the Hall of Fame.