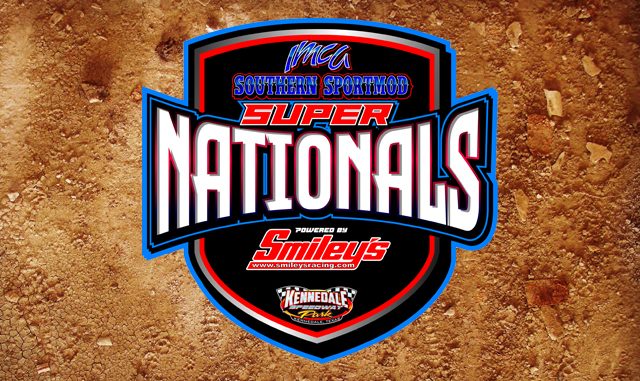 KENNEDALE, Texas (June 10, 2022) – Smiley's Racing Products IMCA Southern SportMods will have a super event of their own this September.
Kennedale Speedway Park hosts the Southern SportMod Super Nationals Sept. 8-10. Divisional title sponsor Smiley's Racing Products is also sponsor of the inaugural event, which pays $3,000 to win and a minimum of $300 to start.
"We have a ton of these cars around here and they do a great job showing up every week to support their local tracks so we wanted to have a special event like this for them," said KSP promoter James Lopez. "Everything we get sponsorship-wise is going to go back 100 percent to the drivers."
The runner-up earns $1,500 with $1,200 paid for third, $1,100 for fourth and $1,000 for fifth. A total of $1,500 in lap money will be paid to lap leaders in the 30-lap main event.
Also on the weekend card will be a $1,000 to win, $100 to start Smiley's Racing Products All Star race. Four drivers – Rowdy Day, Michael Dabney, John Reid Jr. and Cody Smith – won Shootout features last month and are guaranteed starting spots in that event.
Drivers who have won at least one weekly feature through Aug. 14 become candidates to round out the starting field of 24. All Star voting will be conducted the following weekend through MyRacePass.
"We haven't held an in-state event like this for some years for the Southern SportMods," Lopez said. "I called (IMCA president) Brett Root two or three weeks ago and it took shape pretty quickly. With the economy the way it is, especially with the price of gas, this is a great way we can hold a special for this division and be able to give back to racers."
An open practice on Thursday night kicks off the Southern SportMod Nationals weekend, with an all-star race for local factory stocks joining that 6-8 p.m. session and a pit party and barbecue to follow.
Qualifying starts at 7 p.m. Friday, Sept. 9 with Southern SportMods running two heats and locking in the top six for the main event based on passing points.
Eight cars will advance from each of two Saturday, Sept. 10 'B' features. Completing the starting field of 24 cars will be one spot sold by auction and the final Lucky Dog position, filled by random draw from non-qualified drivers attending all three nights.
Top four finishers in the Southern SportMod Super Nationals main event receive trophies identical to those to be awarded during the IMCA Speedway Motors Super Nationals fueled by Casey's that week at Boone Speedway.
Each main event qualifier receives a five gallon jug of race fuel from Keith White and Champ 1 Race Fuels and Five Star Grease Services.
"We want Southern SportMod drivers to have the same atmosphere and energy as there is at Boone," Lopez said. "This will be their own platform and a time to shine and in the long run it's going to benefit the division and IMCA."