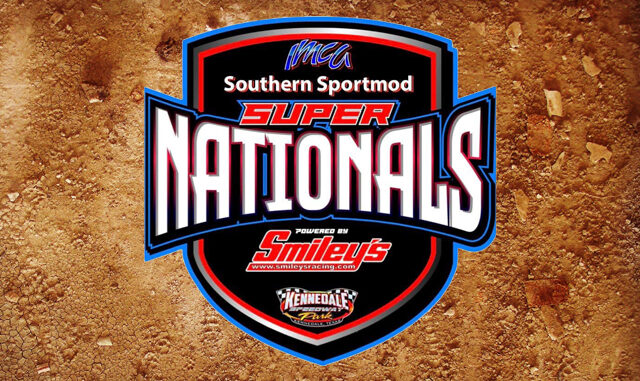 KENNEDALE, Texas (Aug. 29, 2023) – Sponsorships and contingency awards have been finalized.
Early registration is winding down, and new Hall of Famers have practiced their thank you's.
The focus, then, on the IMCA Southern SportMod Super Nationals powered by Smiley's Racing Products is getting Kennedale Speedway Park in the best shape it can be in for the second annual spectacular Sept. 7-9.
Smiley's Racing Products Southern SportMods race for $5,000 to win and a minimum of $500 to start their Saturday night main event, a 30-lapper with a purse that totals more than $20,000.
While keeping up with weekly racing and with all that money on the line, promoter James Lopez and his crew have turned their focus 24/7 to getting the quarter-mile dirt oval as close to perfect as possible.
"The biggest thing we have been doing for the last six weeks or so now is track preparation," stated Lopez.
"We are lucky to have one of the most knowledgeable and winningest racers to ever put on a helmet, with over 50 years of experience in dirt tracking as our track prep man," he continued. "The legendary Bo Rawdon has been busy working in 75 loads of new dirt, as he has increased the banking this year almost 20 degrees and really brought the top side to life."
Practice is Thursday night. Generation Race Cars sponsors both the party in the pits that evening and Friday's $1,000 to win, $100 to start All-Star race.
Any Southern SportMod driver who has won a sanctioned feature by Aug. 31 is eligible to qualify and race for shares of a $5,000-plus purse. O'Reilly Auto Parts provides the winner's trophy.
GRC, notes Lopez, will award another $600 in gift certificates to top four finishers in the All-Star race, upping their gift certificate awards total to $2,400.
Landrum Springs, Dr. Pepper, AllPro Clutch Driveline, O'Reilly Auto Parts of Kennedale, Sunoco Race Fuel and BBD Racing help sponsor or give gift certificates or prizes as well.
Dirt Defender celebrates its 10th anniversary, designing a custom wheel cover for the Southern SportMod Super Nationals, awarding a prize package to the champion and giving away hats, shirts and fun stuff throughout the weekend.
Each heat winner will get a plinko drop good for a 50/50 chance at winning Dirt Defender products.
2021 and 2022 Wall of Fame classes at KSP will be recognized on Saturday. Racers and other contributors who passed away recently will also be remembered with a separate memorial wall that day.
"Our focus now continues to be getting everything ready. Track maintenance is never-ending but there are countless other things that must be done to be ready for an event like this," Lopez said. "We not only want to put on a great show for the fans, we want our facility to shine and look great for fans and race teams."