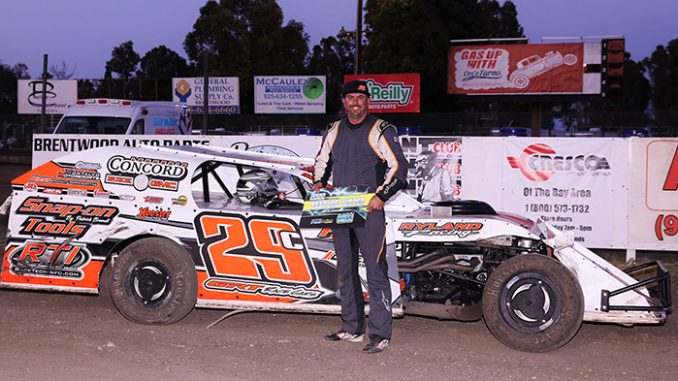 By Don Martin II
ANTIOCH, Calif. (May 28, 2022) – Aaron Crowell won the 20-lap Friesen Performance IMCA Modified main event at Antioch Speedway. This was the first win of the season for the 2004 track champion.
Crowell jumped into the early lead after the race had been restarted. Trevor Clymens was a close second before surrendering the spot second to Kellen Chadwick in traffic on lap 10 with Troy Foulger following closely into third.
A blanket three-car battle developed for the lead with Crowell leading Chadwick and Foulger. As Foulger fell back a little bit, in the waning laps, Chadwick took one more shot at Crowell, but Crowell prevailed at the checkered flag. Foulger settled for third, followed by Anthony Slaney and Clymens.
Fred Ryland won his third 20-lap Friesen Performance IMCA Northern SportMod main.
The race was destined to go without a yellow flag and Nick Zapatero bolted into the lead at the start ahead of Kevin Brown. Brown surrendered second to Chuck Golden on lap four.
Ryland made his first appearance in the top five on lap seven and quickly moved into third behind Kenny Shrader after Golden hit the turn two wall on lap nine.
Ryland slipped past Shrader for second on lap 15. Zapatero was nursing some front end damage as he tried to protect his lead, but Ryland closed in on him with two laps to go. Zapatero went high exiting the final turn and Ryland ducked low to make his winning pass and score the victory.
Zapatero was a career-best second, ahead of Shrader, Jacob Mallet Jr. and Tommy Fraser.
Racing resumes this Saturday night with IMCA Modifieds back in action along with the IMCA Northern SportMods and IMCA Sunoco Stock Cars.