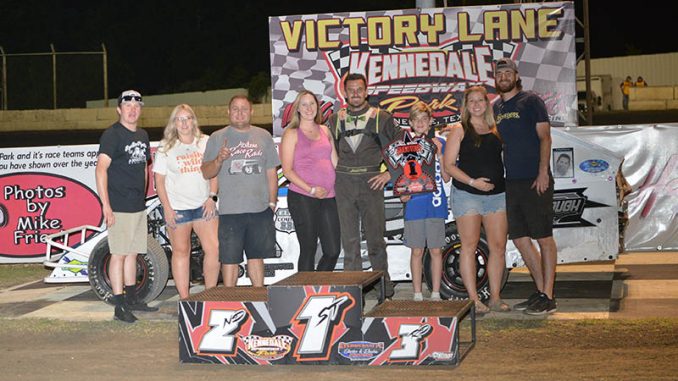 KENNEDALE, Texas (May 28, 2022) – His consistent finishes got Jacob Pirkle the 2021 All Star Shootout title.
A convincing flag-to-flag run at the front of the field got him a $1,500 Friesen Performance IMCA Modified feature win in the 25-lap Shootout show Saturday night at Kennedale Speedway Park.
"This is my home track, I started on the front row and I thought I had a lot to prove. Tonight was very good for us," said Pirkle, who was running in heavy lapped traffic before halfway and was not challenged after the second of back-to-back restarts on lap 18. "I really wanted a win and tonight we got it. The track really played in my favor. I like a little cushion."
Chris Morris took the runner-up spot from Tanner Whitmire on lap 20 and finished just over a second behind Pirkle at the finish. Steven Whiteaker Jr., Whitmire and Larry Adams completed the top five.
Pirkle started racing a Southern SportMod at KSP; he's in his third Modified season there now.
"I had no idea where second place was. I kept looking for somebody to stick their nose in but it didn't happen," he said. "I don't know if the caution was a good thing but it was fun going through lapped traffic like that."
Pirkle is already eligible to qualify for the Fast Shafts All-Star Invitational. He had taken home another $1,500 check from Kennedale's Showdown special last November.
Jeffrey Abbey became the first All Star Shootout repeat winner, leading all 20 laps of the caution-free IMCA Sunoco Stock Car feature, and New Mexico traveler John Reid Jr. led start to finish in an equally fast paced Smiley's Racing Products IMCA Southern SportMod barnburner.
Both races paid $750 to win.
Abbey had been B & B Racing Chassis All-Star qualifying eligible. Cameron Cook was scored second every time around the track and stayed close much of the way before Abbey got a lapped car between them in the late going.
National points leader Blake Clark, Lance Hanson Jr. and 12th starting Shelby Williams were next across the stripe.
IMCA entries again topped 120. Michael Trammell was the Mach-1 IMCA Sport Compact winner.
The fourth and final installment of the All Star Shootout is Sunday at Heart O' Texas Speedway, where pit gates open at 4 p.m. and the grandstand opens at 5 p.m. Hot laps are at 5:30 p.m. and racing is at 7 p.m.
Speed Sport TV. affiliate IMCA.TV also broadcasts the finale at Waco.
Feature Results
Modifieds – 1. Jacob Pirkle; 2. Chris Morris; 3. Steven Whiteaker Jr.; 4. Tanner Whitmore; 5. Larry Adams; 6. Spencer Hartwick; 7. Garrett Gregory; 8. Jeff Emerson; 9. Jon White; 10. Josh McGaha; 11. Cody Tidwell; 12. Vince Ogle; 13. David Goode Jr.; 14. Robbie Daniels; 15. Steve Askew; 16. Mike Hathcock; 17. Kade Ogle; 18. Beau Collins; 19. Darrell Hughes II; 20. William Gould; 21. Hardy Henderson; 22. Chad Melton; 23. Charles Brewer; 24. Brint Hartwick.
Stock Cars – 1. Jeffrey Abbey; 2. Cameron Cook; 3. Blake Clark; 4. Lance Hanson Jr.; 5. Shelby Williams; 6. Markiss Harcrow; 7. Damon Hammond; 8. Erik Miles; 9. Jack Bransom; 10. Thomas Hall Jr.; 11. Tim Clonch; 12. Boone Evans; 13. George Egbert III; 14. Dennis Bissonnette; 15. Donny Singer; 16. Ryan Sanford; 17. Chris McCurdy Jr.; 18. Dylan Sveom; 19. Thomas Hall; 20. Bosco Garrett; 21. Ryan Powers; 22. Justin Nabors; 23. Paul Peters; 24. Michael Heckenast.
Southern SportMods – 1. John Reid Jr.; 2. Brandon Geurin; 3. Andy Hulcy; 4. Boone Evans; 5. Dean Abbey; 6. James Skinner; 7. G.W. Egbert IV; 8. Kaden Honeycutt; 9. Tommy Williams Jr.; 10. Alex Hickham; 11. Michael Dabney; 12. Klayton Reeves; 13. Albert McCall Jr.; 14. Mark Patterson; 15. Kaleb Emerson; 16. Aaron Patterson; 17. Rickey Haney; 18. John Rabozzi; 19. Mason Martin; 20. Jerrett Bransom; 21. Wesley Ingram; 22. Chad Reid; 23. Jeff Shepperd; 24. Wes Cummings.