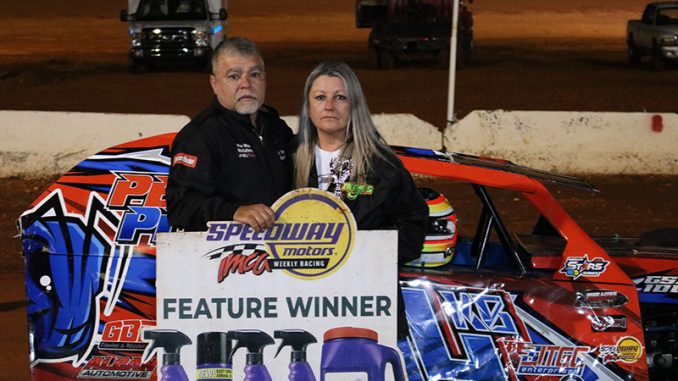 By Justin Newman
MURFREESBORO, Ark. (May 7, 2022) – Victory lane was full of emotions and plenty of tears Saturday night at Diamond Park Speedway as Paul McCollett, driver of the no. 94KB IMCA STARS Mod Lite, found himself amongst family and friends in celebration of his first feature win since his son's tragic passing. 
The elder McCollett and his wife Veronica lost their son Caleb in a motor vehicle accident in October of 2021.
McCollett said "Roni and I agreed that my first win for him was perfect because it was his and our home track for over 20 years. He grew up there."
McCollett and the no. 94KB are currently sitting atop the leaderboard for the Mod Lite division at Diamond Park and have been knocking on the proverbial front door and a chance at putting his car in the winner's circle.
Starting in the 10th spot in his heat, Paul worked his way up to third at the stripe and that would garner him enough passing points to put him on the outside pole of the 15-lap main event. RCM Racing teammate and best friend James 'Big Daddy' Rollins, rolled from his ninth place starting spot in the heat to take the checkers and would start on the pole of the "A" main.
There they were, teammates on the front row racing for a win in honor of a son, father, brother, uncle, friend and racer loved so much by so many. The 94KB machine got the early lead and held on for most of the 15 laps having only traded with teammate Rollins once during the whole event.
At the line it was McCollett, Rollins, Justin Hughes, Jake Jones and Charles Chapmond completing the top five.
After photos in victory lane and when pulling up to his trailer, track owner Wayne Tidwell came over and handed the feature race lineup sheet to McCollett to have as a keepsake.
"To me, that was as good as the win itself. I battled with racing at all this season and last night I know that I had made the right decision," said McCollett.
Yes, Paul, you made the right decision, no apologies.
The IMCA STARS Mod Lites will be back in action this weekend at Diamond Park Speedway for another IMCA Speedway Motors Weekly Racing event. Pit gates open at 5 p.m. and grandstand gates open at 6 p.m. Racing gets underway at 8 p.m.
For more information about Diamond Park Speedway, call the track at 870 298-1293 or check them out on the web at www.DPSDirt.com .