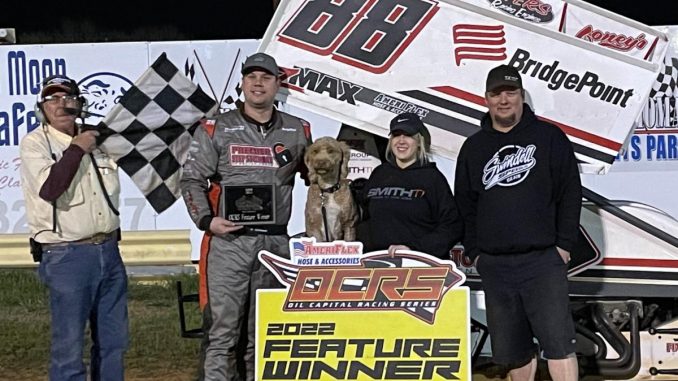 By John Rittenoure 
ADA, Okla. (April 9, 2022) – After a couple nights of costly engine failures Terry Easum was more than ready to see things turn around.
And that happened Saturday at Oklahoma Sports Park.
Easum drove his Premier Self Storage IMCA RaceSaver Sprint Car into the early lead and went the 25-lap distance to win the AmeriFlex/Oil Capital Racing Series main event.
"It has been awhile," said Easum, who had not won since 2021. "We had some bad luck the past few weeks. I think we got it turned around now."
The tough luck started last month at Lawton.
"We broke a motor," Easum said. "The block started leaking. Just a freak deal. But Greg Meyers got it fixed up for us."
"At Thunderbird it would not run and we had an issue there. It has been one thing after another," he continued. "Hopefully this is the turning point for the year."
When the green flag dropped on the main event, Zach Chappell chased Easum for the first lap before giving way to Whit Gastineau. Gastineau closed some on Easum but pulled out on lap 10 with engine problems.
Blake Scott took over second but could not close on Easum. Sheldon Barksdale charged from 10th to third earning him the D&G Contracting hard charger award. Blake Edwards finished fourth and Joe Bob Lee was fifth.
Feature results – 1. Terry Easum; 2. Blake Scott; 3. Sheldon Barksdale; 4. Blake Edwards; 5. Joe Bob Lee; 6. Fred Mattox; 7. Rees Moran; 8. Gary Owens; 9. Elizabeth Phillips; 10. Jett Hays; 11. Ryder Laplante; 12. Michael Bookout; 13. Ryan Dean; 14. Zach Chappell; 15. Mitchell Barros; 16. Whit Gastineau; 17. Danny Wood; 18. Johnny Kent; 19. Jack Potter; 20. Brandon Haddad.