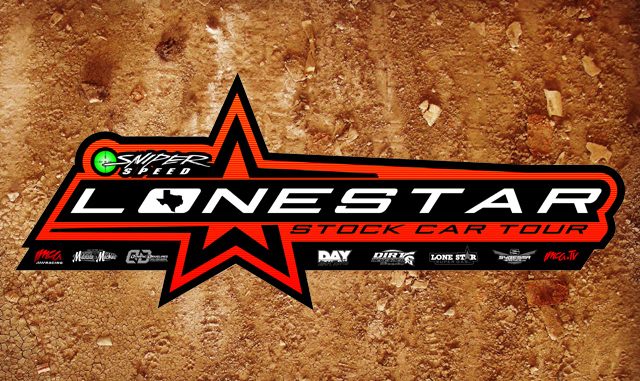 WACO, Texas – Sportsmanship and perfect attendance will pay off for two drivers following the 2022 Sniper Speed IMCA Lone Star Stock Car Tour will be a winner.
The driver selected to receive the Kirk Martin Memorial Sportsmanship Award, given for sportsmanship demonstrated throughout the Feb. 20-26 tour, receives half the proceeds from nightly final starting spot auctions.
Martin was a long-time IMCA Sunoco Stock Car driver and champion of the EQ Cylinder Heads Southern Region in 2017; the sportsmanship check will be presented by his wife Wendy following the tour finale at Kennedale Speedway Park.
The $4,000 Midstate Machine perfect attendance award will also be presented that evening. The only driver with perfect attendance who will be ineligible to receive that award will be the tour champion.
Features pay $1,000 to win and a minimum of $100 to start with opening night Sunday, Feb. 20 at Heart O' Texas Speedway in Waco. The tour is at Devil's Bowl in Mesquite on Monday, Feb.; 21; Boyd Raceway on Wednesday, Feb. 23; Grayson County Speedway in Bells on Thursday, Feb. 24; and at Kennedale Speedway Park for Friday and Saturday, Feb. 25 and 26 shows.
The tour champion receives a $5,000 share of the point fund while the driver who can win both main events at Devil's Bowl Speedway and Feb. 26 at Kennedale goes home with the Sunoco Race Fuels $10,000 Bobby Bonus Bucks award, given in memory of late Lone Star Super Gas owner Bobby Joe Tomastik. If no driver wins both nights, the driver with the top point total from those two events earns $1,000.
"Bobby was a big supporter of the tour from day one," Tour Director Jon Courchaine said. "He helped us out a lot." Drivers must register by midnight tonight (Friday) to be eligible for those awards as well as the following awards given by these tour sponsors:
•Lone Star Super Gas, a case of oil and fuel jug to the hard charger each night;
•Lit Sticks by Twenty-Nine Enterprises, one $25 gift certificate each night and a set of lights to random points positions;
•Landrum Springs, buy one/get one gift certificates to every pre-registered driver and three free sets of four springs to random points positions;
•Abilene Race Rads, one $50 gift certificate every night and two free radiators to random points positions;
•Speed Secrets, one pack of body bolts every night and a throttle control bar to each of the top three in points;
•MultiFire Wires by Money, two $50 gift certificates each night and two sets of wires to random points positions;
•Lemirande Motorsports, two $50 gift certificates each night, two carb spacers to random points positions and a free engine freshen valued at up to $4,500 if the driver who wins tour is running a Lemirande Motorsports engine;
•CRS Suspension and Fabrication, a $50 gift certificate to every pre-registered driver and a Team CRS sponsorship of six shocks to the tour champion;
•Bulletproof Tees, a customized tour championship rug to the tour champion; 
•Shell Valley Fiberglass, two fiberglass foofs to random points positions; 
•QuickCar, one $50 gift certificate each night and one gauge panel to a random points position; 
•And Schoenfeld Headers, one $25 gift card each night two sets of headers to random points positions.
"We've been very blessed this way," Courchaine said of the sponsorship support. "We've got a lot of things going on for the drivers following this tour."Feature winners each night become eligible to qualify for the B & B Racing Chassis All-Star Invitational. The Tuesday, Feb. 22 practice session will be held at Boyd. IMCA sponsors the party in the pits that evening and drivers turning the fastest practice lap will be guaranteed provisional starts in Stock Car, Modified and Smiley's Racing Products Southern SportMod features the following evening.
The Sniper Speed IMCA Lone Star Stock Car Tour will be broadcast by IMCA.TV on a nightly or week-long subscription package.
For more information on the tour and registration, visit www.sniperspeedtour.com or contact Courchaine at 920 373-3350.