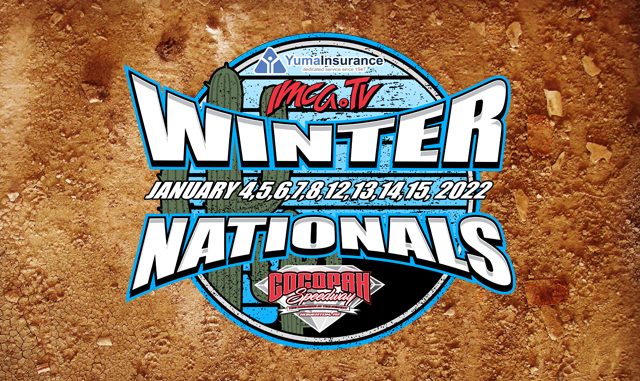 SOMERTON, Ariz. – After many conversations throughout the summer with drivers about the 2022 IMCA.TV Winter Nationals, the latest pre-entry numbers had Cocopah Speedway's Brad Whitfield admittedly speechless.
More than 400 drivers in six IMCA divisions are already pre-entered for seven nights of January racing at Somerton, coming from 21 states and two Canadian provinces. IMCA.TV Winter Nationals is presented by Yuma Insurance and broadcast by IMCA.TV.
"It completely blows my mind that we will start the 2022 season with an IMCA crown jewel event with pre-entry numbers like these," said Whitfield, who spent much of his summer traveling to tracks in the Midwest and talking to drivers one-on-one. "We had 108 cars for our Winter Nationals in 2020 and 275 for the inaugural IMCA.TV Winter Nationals in 2021. For 2022, we already have 420 pre-entries."
"I'm humbled, I'm blessed and I'm speechless" he continued. "I will do everything in my power to make sure that every driver who pulls into the pits and every fan that comes through the front gate has a good time."
IMCA Modifieds run for $1,000 to win, IMCA Sunoco Stock Cars and Karl Kustoms Northern SportMods both for $750 to win and IMCA Sunoco Hobby Stocks for $500 to win in their feature events Wednesday, Jan. 5; Thursday, Jan. 6; Friday, Jan. 7; and Saturday, Jan. 8; and again on Thursday, Jan. 13; Friday, Jan. 14; and Saturday, Jan. 15.
With added money from M-Ray Engineering of California, Mach-1 Sport Compacts run for $300 to win each night Jan. 5-8. IMCA STARS Mod Lites join Jan, 13,14 and 15 shows, racing for $350 to win each of those nights. Yoshimura bonuses of $250, $150 and $100, respectively, will be awarded to top three finishers on Jan. 15.
Modified pre-entries were at 126, with 111 Northern SportMods, 75 Stock Cars, 41 Hobby Stocks, 40 Sport Compacts and 23 STARS Mod Lites.
In addition to home state drivers, IMCA.TV Winter Nationals competitors hail from Arkansas, California, Colorado, Illinois, Iowa, Kansas, Louisiana, Minnesota, Missouri, Montana, Nebraska, Nevada, New Mexico, North Dakota, Oregon, South Dakota, Texas, Utah, Washington and Wyoming, along with the provinces of British Columbia and Saskatchewan.
Ken Schrader and Kenny Wallace will join the IMCA Modified regulars at Cocopah. Mike Wallace will wheel an IMCA Stock Car and John Schneider, aka Bo Duke, a Northern SportMod.
"This will be an affordable grassroots event for every driver," promised Whitfield. "They'll get to park in the same place, they'll get to race seven nights, and they'll get to enjoy the warm Arizona weather."
IMCA Speedway Motors Weekly Racing National, Shaw Race Cars Western, EQ Cylinder Heads Southern and Big Daddy Race Cars Southern regional, and KMJ Performance Arizona State points, but no track points, will be awarded each night.
Modified winners become eligible to qualify for the Fast Shafts All-Star Invitational, Stock Car winners for the B & B Racing Chassis All-Star Invitational.
An open practice runs from 6-9 p.m. Jan. 4 at Somerton. Another open practice, as well as $1,000 to win Stock Car and Hobby Stock features and the $1,000 to win Gene Freeman Memorial pit crew challenge is slated for Jan. 12.
Pit gates open at noon and racing starts at 4 p.m. each day. Spectator admission is $15 for adults, $12 for seniors and military and free for kids ages 11 and under. Pit passes are $35. Pit passes for practice sessions are $25. 
Drivers in all divisions can register at MyRacePass. The track website is racecocopahspeedway.com and more information is also available on Facebook.
Free camping will be available.