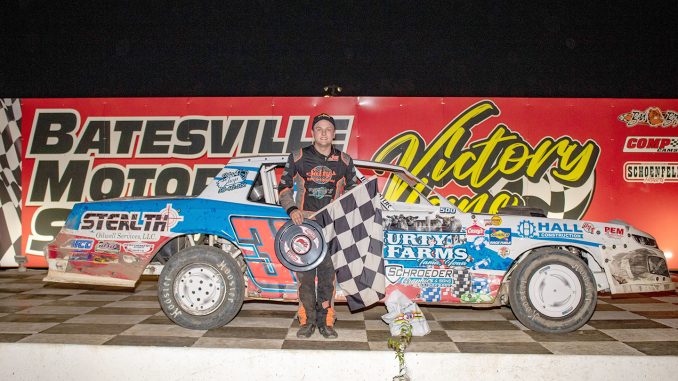 BATESVILLE, Ark. (Oct. 13) – Challenged throughout a fast-paced 25-lapper, Dylan Thornton held off all challengers in winning Wednesday's World IMCA Stock Car Championship presented by IMCA.TV opening night qualifying feature at Batesville Motor Speedway.
Racing into the lead from fourth starting on the opening circuit, Thornton battled with Johnathon Logue much of the way before taking the win ahead of seventh starting Dallon Murty of Chelsea, Iowa, and 11th starting Benji LaCrosse.
"Hopefully we can get the big one done Saturday," said Thornton, who will start on the pole for the $50,000 to win main event.
Opening night saw 95 drivers in action in the 50th anniversary season finale at Batesville, and drivers from a dozen states took the green flag for the qualifier.
Logue, of Logansport, Iowa, ended in fourth. Rounding out the top nine were Curt Lund of Redwood Falls, Minn., Tim Brown of Stoutland, Mo., Tim Johnson of Brainerd, Minn., Jake Timm of Winona, Minn., and Derek Brown of Stoutland, Mo.
Jeffrey Abbey of Belton, Texas, topped the "B" feature and Jack Sullivan of Greenbrier hauled the mail from 16th in winning the "C" feature.
Qualifying features continue Thursday and Friday. Saturday's main event starts 30 cars racing for shares of a $125,000 purse.
The grandstand opens at 5 p.m. and racing starts at 7:30 p.m. each night.
The World IMCA Stock Car Championship is broadcast by IMCA.TV.
Feature results – 1. Dylan Thornton, Santa Maria, Calif.; 2. Dallon Murty, Chelsea, Iowa; 3. Benji LaCrosse, Casco, Wis.; 4. Johnathon Logue, Logansport, Iowa; 5. Curt Lund, Redwood Falls, Minn.; 6. Tim Brown, Stoutland, Mo.; 7. Tim Johnson, Brainerd, Minn.; 8. Jake Timm, Winona, Minn.; 9. Derek Brown, Stoutland, Mo.; 10. Zane DeVilbiss, Farmington, N.M.; 11. Peyton Taylor, Batesville, Ark.; 12. Wayne Brooks, Bald Knob; 13. Richie Tosh, Salado; 14. Devin Snellenberger, Pulaski, Wis.; 15. Dan Mackenthun, Hamburg, Minn.; 16. Abe Huls, Carthage, Ill.; 17. Patrick Linn, Little Rock; 18. Jason Crawley, Little Rock; 19. Jeff Taylor, Cave City; 20. Anthony Goldsberry, Runnells, Iowa; 21. Westin Abbey, Comanche, Texas; 22. Dalton Flory, Williston, N.D.; 23. Chanse Hollatz, Clear Lake, Iowa; 24. Kyle Brown, Madrid, Iowa; 25. Terry Phillips, Springfield, Mo.; 26. Jacob Ellithorpe, Maquoketa, Iowa; 27. Tim Carman, Copperas Cove, Texas; 28. Dillon Smith, Waco, Texas; 29. Tanner Mullens, Wichita, Kan.; 30. Hayden Hartwick, Heber Springs.