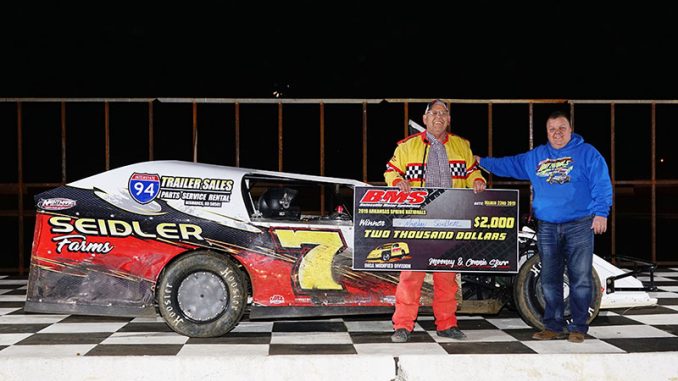 BATESVILLE, Ark. (March 22) – Marlyn Seidler had mixed success in his early-season IMCA Modi­fied foray to Arizona. 
He traveled to Arkansas and Batesville Motor Speedway to get his first feature win of the year, and the 88th of his career in the division on Friday night.
Seidler started on the pole and led all 25 laps of the star-filled Arkansas Spring Nationals main event. Jeff Taylor, Tyler Stevens, Kelly Shryock and Ken Schrader rounded out the top five.
"Winning a race like this is a big deal for an old, gray-haired dirt farmer," said Seidler, who earned $2,000 and a Fast Shafts All-Star Invitational ballot berth along with the checkers. "There were a lot of good cars here and I'm grateful that I'm still able to run with these guys."
The North Dakota long tow had to beat Taylor to the first turn. He was already into lapped traffic before a pair of cautions came out near midway.
The race stayed green from that point and Seidler checked out, winning comfortably ahead of Taylor.
"I'd run part of the Arizona Modified Tour, then finished third both nights at Cocopah," he said. "I think the last time I ran here was four years ago. (Promoter) Mooney (Starr) gets it. He tries to make the track as smooth as he can. We had a good car and we had a lot of fun here."
Forty IMCA Modifieds vied Friday at Batesville. Saturday's program fell to rain.
Feature results – 1. Marlyn Seidler; 2. Jeff Taylor; 3. Tyler Stevens; 4. Kelly Shryock; 5. Ken Schrader; 6. Brandon Smith; 7. Brint Hartwick; 8. Curtis Cook; 9. Robert Powers; 10. Ricky Engles; 11. Clay Norris; 12. Jeff James; 13. Peyton Taylor; 14. Wayne Brooks; 15. Chad Melton; 16. Mason Oberkramer; 17. Brad Gholson; 18. Jesse Dennis; 19. Wendall Wallace; 20. Mike Han­sen; 21. Rusty Jeffery; 22. Randy Weaver; 23. Keith Hammett; 24. Cody Self.