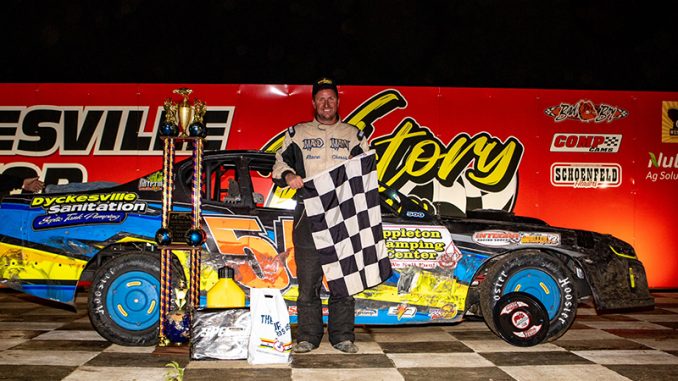 BATESVILLE, Ark. (Oct. 16) – An IMCA Sunoco Stock Car marathon ended with a two-lap sprint and Benji LaCrosse took home $50,000 from Batesville Motor Speedway's World IMCA Stock Car Championship presented by IMCA.TV Saturday night.
LaCrosse took his first lead seven circuits into the 71-lapper, passed Peyton Taylor on the 21st and 43rd circuits to regain the front spot, then held off Taylor in a two-lap shootout following a late caution.
"I'm just speechless," LaCrosse said following the top payday in division history and then getting a chance to catch his breath mid-interview while waiting for a spectacular post-race fireworks display to end. "We had a good car all week and I thought if a guy could get through quick enough he had a good chance of holding the spot. It was better than I thought to start off and it worked out pretty well."
LaCrosse had started seventh, runner-up Taylor 15th. Pole starter Dylan Thornton, Derrick Agee and hard charger Westin Abbey rounded out the top five.
Dallon Murty led the first six laps, with LaCrosse in second by lap two and Taylor in third the next time around the track. LaCrosse took a higher line to the front before the first caution came on lap 10.
Taylor led three laps following back-to-back cautions on lap 17 and another three circuits following the fuel stop just after halfway. LaCrosse led by two-plus seconds before the caution on laps 56 and then the yellow that set up the two-lap finish.
"We're building a garage at home," LaCrosse said of his $50,000 share of the $125,000 main event purse. "Some of that is going to go to that, for sure."
Thornton fell back in the field before racing his way back to third while Abbey had started 26th.
Zane DeVilbiss, winner of the $50,000 Race For Hope IMCA Modified special at Batesville in September, exited with a flat tire running third on lap 17 and completed his charge to sixth.
Jeff Taylor and Hollatz ran 1-2 in the "B" feature to earn starting spots on the main event grid. Jeffrey Abbey was the "C" winner.
Qualifying on Thursday and Friday was postponed to Saturday, with the wins and front row starting spots going to T.J. Herndon and Tom Berry Jr.
Nearly 100 Stock Cars from 16 states saw action in the inaugural World IMCA Stock Car Championship, the final event of Batesville's 50th anniversary season and a fundraiser for the Miracle League of Arkansas.
Feature results – 1. Benji LaCrosse, Green Bay, Wis.; 2. Peyton Taylor, Batesville; 3. Dylan Thornton, Santa Maria, Calif.; 4. Derrick Agee, Huntsville, Mo.; 5. Westin Abbey, Comanche, Texas; 6. Zane DeVilbiss, Farmington, N.M.; 7. Tyler Tipton, Weskan, Kan.; 8. Dallon Murty, Chelsea, Iowa; 9. Tim Johnson, Brainerd, Minn.; 10. Jake Timm, Winona, Minn.; 11. Tim Eaton, St. Joseph, Mo.; 12. Elijah Zevenbergen, Ocheyedan, Iowa; 13. Chanse Hollatz, Clear Lake, Iowa; 14. T.J. Herndon, Atwood, Tenn.; 15. Curt Lund, Redwood Falls, Minn.; 16. Randy Weaver, Little Rock; 17. Tom Berry Jr., Des Moines, Iowa; 18. Jake Nelson, Williston, N.D.; 19. Jeff Taylor, Cave City; 20. Jack Sullivan, Greenbrier; 21. Buck Schafroth, Orient, Iowa; 22. Tim Brown, Stoutland, Mo.; 23. Angel Munoz, Lamar, Colo.; 24. Patrick Linn, Little Rock; 25. Richie Tosh, Salado; 26. Brint Hartwick, Quitman; 27. Johnathon Logue, Logansport, Iowa; 28. Dustin Reeh, Council Bluffs, Iowa; 29. Abe Huls, Cartage, Ill.; Derek Brown, Stoutland, Mo.