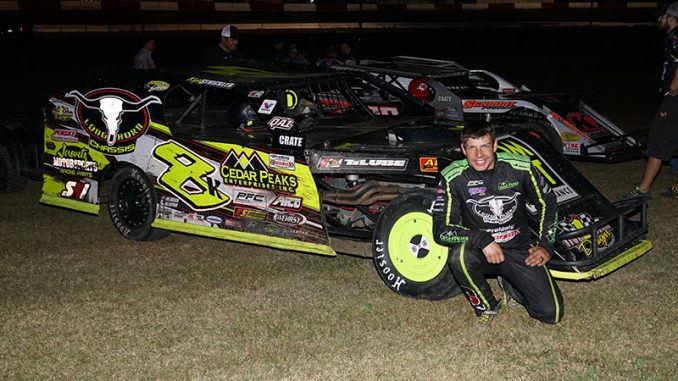 By Mike Spieker
BATESVILLE, Ark. (Sept. 27) – Kyle Strickler backed up his overall quick time qualifying run on Tuesday with a dominating performance in Wednesday night's Race For Hope 74 IMCA Modified preliminary feature.
The Mooresville, N.C., driver started in the middle of the front row for the three-wide start, which ran 10 rows deep. Strickler jumped out to the lead on the opening lap as Wendell Wallace and Steven Bowers Jr. settled into second and third, respectively.
Strickler quickly opened up a full straightaway lead by lap five, while Wallace and Bowers fought for the runner-up position. As Strickler approached lapped traffic at the midway point of the 25-lap event, he didn't waste any time getting around slower cars.
The two-time IMCA Speedway Motors Super Nationals fueled by Casey's champion made a three-wide pass around two lapped cars that were battling for position as he continued to stretch out his lead over Wallace.
Strickler was still battling heavy lapped traffic as the race advanced to the closing stage but he held a steady line riding around the middle groove of the track and went on to capture the feature win.
Terry Phillips and Jeff Taylor were able to sneak around Wallace to finish second and third, respec­tively. Bowers rounded out the top five.
Cade Dillard, Chris Abelson and Jason Beaulieu also claimed transfer spots into Saturday night's $20,000 to win, minimum $2,000 to start main event.
After the race had concluded, it was announced that Abelson forfeited his seventh place effort in attempt to qualify better Thursday or Friday night to start higher up in the running order on Satur­day. Abelson also has a safety net to fall back on after being guaranteed a starting position on Saturday with his second-place time trial run on Tuesday.
Racing continues Thursday, Friday and Saturday night at the high-banked, 3/8-mile clay oval. The green flag drops at 7:30 p.m.
If you cannot make it to the track, IMCATV will provide live coverage of the event with a daily or yearly pass.
Feature results – 1. Kyle Strickler; 2. Terry Phillips; 3. Jeff Taylor; 4. Wendell Wallace; 5. Steven Bowers Jr.; 6. Cade Dillard; 7. Chris Abelson; 8. Jason Beaulieu; 9. Marcus Yale; 10. Regan Tafoya; 11. Ken Schrader; 12. Tyler Droste; 13. John Sheets; 14. Chad Andersen; 15. Cody Laney; 16. Timmy Culp; 17. Brandon Smith; 18. Tyler Stevens; 19. Mikey Bell; 20. Justin Jurgens; 21. Jordan Grabouski; 22. Ryan Gilmore; 23. J.T. Goodson; 24. Gavin Landers; 25. Scott Drake; 26. Justin Kay; 27. Myron DeYoung; 28. Travis Dickson; 29. Kris Lloyd; 30. Randy Weaver.