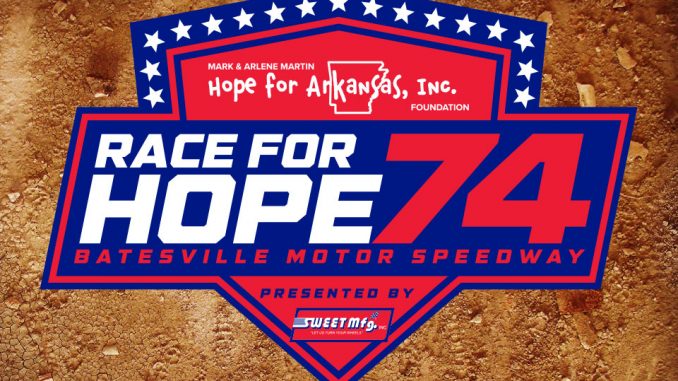 BATESVILLE, Ark. – Practice and time trials get underway Tuesday night at Batesville Motor Speedway for the top-paying IMCA Modified event of the season.
A $20,000 share of the $150,000 Mark and Arlene Martin Hope For Arkansas Foundation Race For Hope 74 main event purse goes to the winner of the Saturday, Sept. 29 headliner.
Twenty-seven drivers take the green flag in a race that pays a minimum of $2,000 to start. All IMCA rules will apply and IMCA Speedway Mo­tors Weekly Motors Weekly Racing National, Jet Racing Central Region and Arkansas State points will be awarded.
Race For Hope 74 will be broadcast by IMCA.TV. Presenting sponsor is Sweet Manufacturing.
Fifteen heat races will be held each night Wednesday through Friday. "D," "C" and "B" races will follow qualifying features those evenings with points to be awarded toward a special race.
Both the Race of States, featuring the fastest car from each state that does not qualify for the main event, and the Manufacturers' race, featuring the fastest non-qualifying car built by each manufacturer represented, pay $1,000 to win and a minimum of $200 to start on Saturday.
The 74-lap main event is a qualifier for the 2019 Fast Shafts All-Star Invitational ballot.
Pit gates open at 3 p.m. each day, grandstands open at 5:30 p.m. and racing starts at 7 p.m.
Spectator admission is free on Tuesday, $20 Wednesday through Friday and $25 on Saturday. Pit passes are $20 on Tuesday, $30 Wednesday through Friday and $40 on Saturday.
Mission of the Mark and Arlene Martin Hope for Arkansas Foundation is to improve the quality of life for children and families across the state with an emphasis on Batesville and Independence County.
This year, the foundation will provide financial assistance to the Community Enrichment Organiza­tion as it works to provide shelter and rehabilitation to the homeless in the area.
Drivers from 21 states and Canada now pre-entered for Race For Hope are:
Chris Abelson, Sioux City, Iowa; Buzzy Adams, Cameron, Wis.; Chase Allen, Midlothian, Texas; Chad Andersen, Fort Calhoun, Neb.; Tony Anglin, Walnut Ridge.; Drew Armstrong, Alexan­der; Robby Arnold, Paragould; Robert Baker, Alexander; Christy Barnett, El Paso, Texas; Donnie Barnhart, North Little Rock; David Baser, Jacksonville; Jason Beaulieu, Campbell River, B.C.; Eddie Belec, Arvada, Colo.; and Mikey Bell, Rose Bud.
Tom Berry, Newburg, N.D.; Tanner Black, Otis, Kan.; Kip Black, Jacksonville; Wyatt Block, Tigerton, Wis.; Steven Bow­ers Jr., Topeka, Kan.; Alan Brown, Searcy; David Brown, Kellogg, Iowa; Kyle Brown, Madrid, Iowa; John Burrow Jr., Denver, Colo.; Cayden Carter, Oskaloosa; Chris Carter, Redfield; Timothy Culp, Pratts­ville; Shane DeMey, Denison, Iowa; Cade Dillard, Robeline, La.; and Josh Dingman, Idaho Falls, Idaho.
Brad Doherty, Ennis, Texas; Scott Drake, Diamond, Mo.; Ryan Engels, Watertown, S.D.; Ricky Engles Jr., Mt. Pleasant; Clark Evans, Carlisle; Grey Ferrando, Stayton, Ore.; Neal Flowers, Hobbs, N.M.; Bill Frye, Greenbrier; Ryan Gaylord, Lakewood, Colo.; Tripp Gaylord, Lakewood, Colo.; Joey Gee, Bald Knob; Dennie Gieber, Frankston, Texas; and J.T. Goodson, Bryant.
Daniel Gottschalk, Ellis, Kan.; Jordan Grabouski, Beatrice, Neb.; Chase Hansen, Myton, Utah; John Hansen, Brush, Colo.; Brint Hartwick, Rose Bud; Toby Herring, Hobbs, N.M.; Jacob Hobscheidt, Plattsmouth, Neb.; Madison, Holloway, Sheridan; Steve Holzkamper, Gentry; Jason Hughes, Watts, Okla.; Jason Ingalls, Longview, Texas; Rusty Jeffery, Batesville; and Greg Jenkins, Hobbs, N.M.
Mark Joski, Denmark, Wis.; Justin Kay, Wheatland, Iowa; Kurt Kile, Nichols, Iowa; Benji La­Crosse, Green Bay, Wis.; Cody Laney, Torrance, Calif.; Kris Lloyd, Paragould; Tyler Madi­gan, Dubuque, Iowa; Chad Mallett, Greenbrier; Jeff Mathews, Seffner, Fla.; Kayden Menasco, Muldrow, Okla.; Red Monson, Denison, Iowa; Chris Morris, Taylor, Texas; and Josh Most, Red Oak, Iowa.
Brian Mullen, Seymour, Wis.; Mike Mullen, Seymour, Wis.; Dale Neitzel, Billings, Mont.; Tyler Newcom, Lake City; Mitchell Niemi, Santa Ysabel, Calif.; Clay Norris, Searcy; Mark Norris, Searcy; Jake O'Neil, Tucson, Ariz.; Mike Patterson, Merkel, Texas; Zachary Patterson, Yukon, Okla.; Jerry Phillips, Galva, Kan.; and Terry Phillips, Spring­field, Mo.
Will Poston, Midland, Texas; Chett Reeves, Bakersfield, Calif.; Butch Reid, Carlsbad, N.M.; Joel Rust, Grundy Center, Iowa; Troy Schaberg, Amity; Dennis Schoenfeld, Van Buren; Ken Schrader, Concord, N.C.; Dylan Sherfick, WaKeeney, Kan; Mark Shipman, Grandview, Texas; Kelly Shryock, Fertile, Iowa; Tyler Stevens, Jacksonville; Shawn Strand, Mandan, N.D.; and David Stremme, Mooresville, N.C
Jack Sullivan, Greenbrier; Jeff Taylor, Cave City; Peyton Taylor, Desha; Wade Taylor, Spring Creek, Nev.; Ricky Thornton Jr., Clive, Iowa; Richie Tosh, Salado; Jordan Turner, Batesville; Anthony Valim, Palmer Lake, Colo.; Wendell Wallace, Jamestown; Tim Ward, Harcourt, Iowa; Collen Winebarger, Corbett, Ore.; David Winslet, Bossier City, La.; and Marcus Yarie, Wausau, Wis.