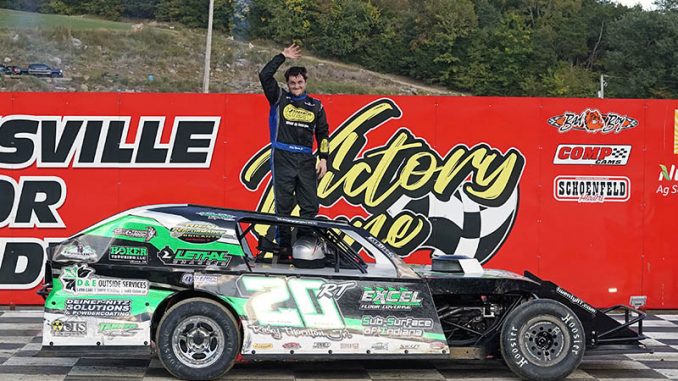 BATESVILLE, Ark. (Oct. 11) – New car? No problem.
Thornton topped the $12,000 to win Race For Hope 71 feature for IMCA Modifieds at Batesville Motor Speedway. Sunday's checkered flag run was his second straight and third in the four years the event has been held.
"It's awesome to be able to win this race three out of four years. This was definitely one of our biggest wins," said Thornton, who led start to finish in the 71-lapper. "We brought a new car (a Lethal Chassis), went back to our notes and didn't have to change a thing all week."
Already on the Fast Shafts All-Star Invitational ballot, Thornton set fast time to start the week and never slowed down. After rain postponed the main event from Saturday night to Sunday afternoon, he weathered a handful of cautions before and after the mandatory fuel stop on lap 40.
The final yellow came with three laps left. Jake O'Neil pulled to Thornton's back bumper before chasing him to the checkers.
"This year we were really good in both corners. I think I was able to make up time in (turns) one and two. I haven't been as good there before," Thornton said. "It was a good weekend for us. We're already looking forward to going back next year."
O'Neil made his drive toward the front from the outside of row four. Tom Berry Jr., Tanner Black and Jack Sullivan completed the top five.
Jeff Taylor was also a plus 10 on the day and finished sixth.
Thornton was already on the Fast Shafts All-Star Invitational ballot.
Feature results – 1. Ricky Thornton Jr., Adel, Iowa; 2. Jake O Neil, Tucson, Ariz.; 3. Tom Berry, Des Moines, Iowa; 4. Tanner Black, Otis, Kan.; 5. Jack Sullivan, Greenbrier; 6. Jeff Taylor Cave City; 7. Ethan Dotson, Bakersfield, Calif.; 8. Tripp Gaylord, Lakewood, Colo.; 9. Cody Laney, Torrance, Calif.; 10. Wendell Wallace, Batesville; 11. Collin Thirlby, Grawn, Mich.; 12. Justin O'Brien, West Union, Iowa; 13. Curtis Cook, Conway; 14. Grey Ferrando, Stayton, Ore.; 15. Jeff Larson, Freeport, Ill.; 16. Kelsie Foley, Tucson, Ariz.; 17. Travis Mosley, Batesville; 18. Donnie Barnhart, North Little Rock; 19. Casey Findley, Bryant; 20. David Stremme, Mooresville, N.C.; 21. Ashton Wilkey, Batesville; 22. Spencer Wilson, Minot, N.D.; 23. Richie Tosh, Salado; 24. Marcus Yarie, Wausau, Wis.; 25. Mark Norris, Searcy; 26. Terry Phillips, Springfield, Mo.; 27. Keith Hammett, Brookland; 28. Mikey Bell, Quitman; 29. Dennis Schoenfeld, Van Buren; 30. Lance Mari, Imperial, Calif.; 31. Tony Anglin, Walnut Ridge.