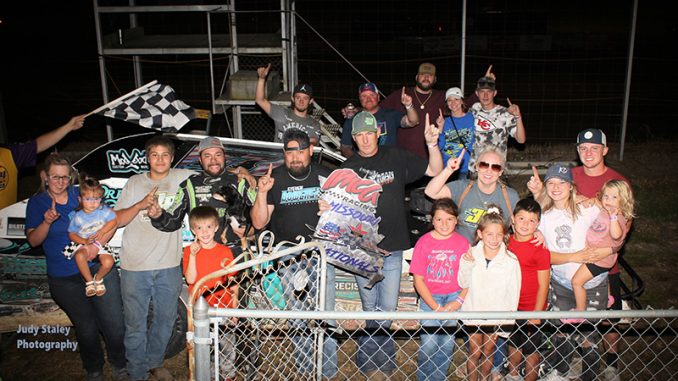 OSBORN, Mo. – Steven Bowers Jr.'s third straight victory at US 36 Raceway's Missouri Nationals played out a lot like last year's run to the checkers. 
A DNQ due to fuel pump-related issues again on Friday, Bowers won his last-chance IMCA Modified qualifier on Saturday, started 13th and took the lead 20 laps into the main event, leading the last 10 circuits to earn $2,000 and Fast Shafts All-Star Invitational qualifying eligibility.
"It was déjà vu," said Bowers, who'd won every weekly feature at Osborn except opening night. "This has been a good track for me, that's for sure. "It's a fast track and you've got to be up on the wheel. "It's definitely not a finesse track. It's a driver's track."
Bowers went to the top to catch the leaders, then moved down a line. He pulled away following a late caution, winning by two-plus seconds ahead of Drew Janssen.
Jeff James, Terry Hurt and Brandon Conkwright completed the top five.
Stuart Snyder was the $2,000 IMCA RaceSaver Sprint Car winner, Mike Nichols repeated his IMCA Missouri Nationals run to the checkers for a $2,000 check of his own and Chad Shaw's first Karl Kustoms Northern SportMod feature win in two years paid a career-best $1,500.
"We kind of got lucky and drew the pole," said Snyder, a 13-time winner during the point season. "I had to be smart when I got into lapped traffic. I found something up top and once I did that it was game on."
Jason Danley started sixth and finished second, about a second behind Snyder.
"I knew he (Danley) was coming up. He's always tough wherever he goes," Snyder said. "But I knew if I hit my marks in (turns) three and four I'd be fine. I made sure I nailed the restarts, got off turn two and didn't let him get inside me.
Eleventh starting Kenny Potter, Toby Chapman and Nate Barger completed the top five in the 30-lapper.
"That was a lot of laps for this old guy," admitted Snyder. "I was worn out and winded when I got out of the car."
Nichols' repeat Stock Car win came after he caught Jason Estes for the front spot nine laps in, then stretched out his advantage in the waning laps. Chad Clancy was second and Estes rallied to third after exiting with a flat tire.
"I enjoy racing on smaller tracks," noted the now 10-time national champion Nichols, echoing Bowers. "You need more finesse here."
Nate Barnes was fourth, Sterling Sorensen fifth.
After making adjustments to a car that felt "a little snug" on Friday, Shaw ran side-by-side with buddy Chris Wright early in the Northern SportMod feature before taking the lead on lap three and staying in front to the finish.
"It felt pretty good. I'm not going to lie," said Shaw, last a winner in a weekly show two years ago in Kansas. "This show gets better every year. We had great weather, the track was good and everything worked out right."
The 20-lapper ended with a long green flag run. Shaw ran the top line in turns one and two and "all over in three and four," winning ahead of Adam Vrbka, Nichols, Tim Eaton and Chad Clancy.