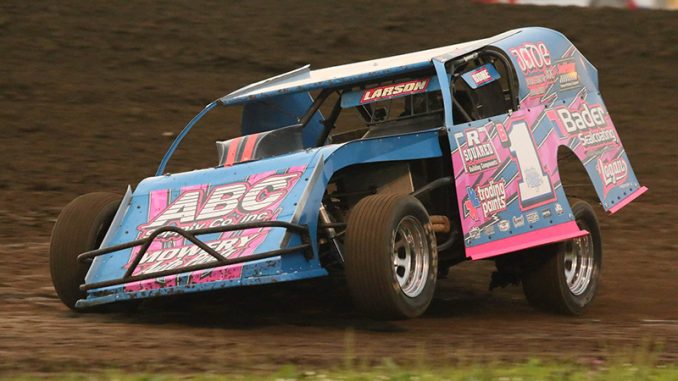 VINTON, Iowa – A fast start close to home was all it took to convince Jeff Larson this was the year to run for the IMCA Modified national championship. 
He was right.
Larson won 35 features and raced to three track titles on the way to the 2021 crown. From Freeport, he became the first Illinois driver to win the IMCA Modified national championship since 1987.
"We won our first five nights out weekly and decided to keep going because we'd been so close last year," explained Larson, the winner of 22 features and national runner-up in 2020. "We definitely put a lot of miles on this year but it turned out to be our best season."
Also the first Illinois driver to win a regional title in any division, Larson topped point standings at Maquoketa Speedway, East Moline Speedway and 300 Raceway en route to the national and Side Biter North Central Region titles.
"There were maybe six races we won this year that we maybe shouldn't have. The caution came out or somebody spun and we were just in the right place at the right time," said Larson, who now has 81 career wins in his seven IMCA campaigns. "It seemed like nothing could go wrong, especially the first half of the season."
National and regional champions and rookies of the year were announced this week by IMCA.
Dillon Raffurty of Kansas City, Mo., became the first-ever IMCA STARS Mod Lite national champion.
Also winning career-first national crowns were Justin Clark of Hamersville, Ohio, in the IMCA RaceSaver Sprint Cars; Kaden Reynolds of Cedar Rapids in the IMCA Sunoco Hobby Stocks; Matthew Day of Farmersville, Texas, in the Smiley's Racing Products Southern SportMods; and Caine Mahlberg of Dunlap in the Mach-1 Sport Compacts.
Mike Nichols of Harlan raced to a record-extending 10th IMCA Sunoco Stock Car national championship, Matthew Looft of Swea City won his division-best fourth Karl Kustoms Northern SportMod title and Cory Dumpert of Exeter, Neb., topped IMCA Sunoco Late Model standings for the third straight year.
Dallon Murty of Chelsea won the Junior National Championship and Kaytee DeVries of Spencer added a fourth IMCA Lady Eagle trophy to her career collection.
Raffurty won 28 features in the first sanctioned season for the Mod Lites, collecting Valley Speedway and KMJ Performance Missouri State titles.
The first Ohio driver to win an IMCA national title in more than half a century, the much-traveled Clark was a 16-time feature winner. He also earned Ohio Thunder Sprint Series and Ohio State crowns.
Last season's Junior National Champion, Reynolds collected 30 feature wins, plus Big Daddy Race Cars Northern Region and Independence Motor Speedway and Marshalltown Speedway titles.
Day, the 2020 national rookie of the year in the division, was a 14-time feature winner, track champion at Southern Oklahoma Speedway and Oklahoma State champion.
A 17-time winner, Mahlberg paced point standings at Shelby County Speedway and at Crawford County Speedway.
Nichols' 22 feature wins put his IMCA-best career total at 583; Also the EQ Cylinder Heads Northern Region champion for the 10th time, Nichols led the points races at Dawson County Raceway and at Crawford County Speedway, putting his IMCA career leading track title total at 44.
Looft's single-season career best 27 feature wins puts him at a division-best 194 for his career. Also the national champion in 2013, 2014 and 2018, he topped point standings at Arlington Raceway, Kossuth County Speedway and Murray County Speedway, upping that division leading total to 31.
Dumpert's latest national championship came in the closest race of 2021, a single point ahead of Justin Kay.
The 17-time winner was champion at Boone County Raceway and also led the way in Nebraska State points.
Murty put the exclamation point on his 30-win Junior National Championship campaign by winning his last six starts to more than clinch the Iowa State title.
DeVries collected 17 checkers and now has 76 wins in her career in the 4-cylinder class. She was track champion at Kossuth County Speedway, Buena Vista Raceway and Worthington Speedway.
More than 480 drivers between the ages of 13 and 18 in the nine IMCA divisions contended for Junior National Champion honors while 273 female drivers, also representing each of the IMCA divisions, vied for the Lady Eagle award.
Joining Larson as Modified regional champions were Dylan Sillman of Alvo, Neb., in the Jet Racing Central; Chaz Baca of Mesa, Ariz., in the Shaw Race Cars Western; William Gould of Calera, Okla., in the Razor Chassis South Central; and A.J. Ward of Ionia, Mich., in the Dirt Works Eastern.
The youngest regional champion crowned since 2015, the 18-year-old Sillman also became just the fourth Modified driver to earn regional champion and rookie of the year honors the same season. An 11-time feature winner, he was champion at US 30 Speedway and Junction Motor Speedway.
Baca's second straight title in the West came on the strength of 22 feature wins and the Cocopah Speedway crown. He was also the Arizona State king.
Regional championship number five for Gould was complemented by 15 checkers – he's at 164 for his career now, 14th all time – plus the Grayson County Speedway track and Texas State titles.
Along with his fourth regional crown, Ward motored to I-96 Speedway and Thunderbird Raceway track and Michigan State championships. He won 20 features and now has 139 for his career, 26th all time in the division.
Aaron Spangler adds a first EQ Cylinder Heads Southern Region Stock Car championship eagle to an IMCA awards collection that already includes three Modified regional trophies. The Dove Creek, Colo., veteran had 19 wins and topped points at Fairgrounds Speedway.
Jason Duggins three-peated in the Big Daddy Race Cars Southern Region for Hobby Stocks, busting loose for 29 feature wins. The Farmington, N.M., flyer also paced points at Fairgrounds Speedway for the third straight year.
National rookies of the year were Cody Thompson of Sioux City, Modifieds; Kyle Prauner of Norfolk, Neb., Late Models; Jarrett Rosencrance of Butler, Pa., in the Sprints; Cade Richards of Lincoln, Neb., in the Stocks; Hunter Smith of Brush, Colo., in the Hobbies; Tyler Bannister of Bakersfield, Calif., in the Northern SportMods; Kaleb Emerson of Millsap, Texas, in the Southern SportMods; and Greg Kohl Jr. of Fort Ripley, Minn., in the Sport Compacts.
Thompson, also the top rookie in the North Central region, won 19 features and Worthington Speedway and Murray County Speedway titles.
Prauner was a five-time winner and the Off Road Speedway champion.
Rosencrance won once, edging Austin Reed by a single point in the Sprint Car ROY race.
Richards, the 2019 Northern SportMod rookie of the year, became the sixth different driver to win the national rookie award in multiple divisions and at 17 the youngest to do so. The national runner-up and top EQ Northern Region rookie won 14 times and was champion at Eagle Raceway and Beatrice Speedway and led Nebraska State standings.
Smith, just the second 14-year-old to pace the Hobby Stock rookie points, won 10 features, earning Northern Region ROY honors in addition to El Paso County Raceway and I-76 Speedway track titles and the Colorado State crown.
Bannister was an eight-time winner and champion at both hometown Bakersfield Speedway and Merced Speedway.
A high school junior, Emerson earned Southern SportMod career win number one at Boyd Raceway.
Kohl counted eight wins on the year and was track champion at both North Central Speedway and Princeton Speedway.
Other regional Modified rookies of the year were Kaitlyn Sample of Winnemucca, Nev., in the Western; Steve Askew of Prosper, Texas, in the South Central; and Owen Barnhill of Milton, Fla., in the Eastern.
Sample became just the third female driver to earn regional rookie honors. Askew won one feature while Barnhill collected seven checkers, track titles at Southern Raceway and Northwest Florida Speedway, and Florida State honors.
Larry Brigner of Apache Junction, Ariz., won one feature and the EQ Cylinder Heads Southern Region Stock rookie of the year award.
Spanish Fork, Utah's Haiden Reese also had a feature win, along with the Utah State title, on his way to Big Daddy Race Cars Southern Region rookie honors for the Hobby Stocks.
All 2021 IMCA point standings become official at noon CST on Monday, Oct. 25.