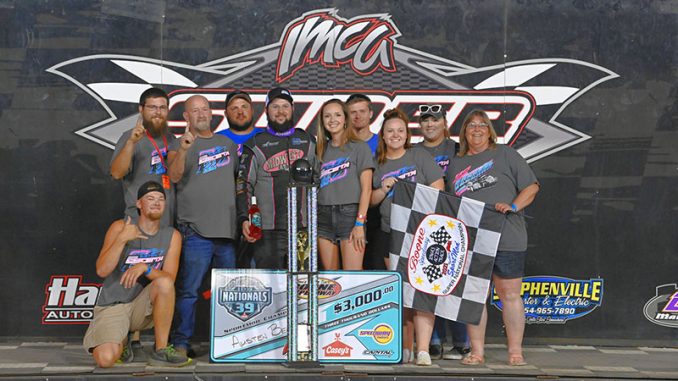 BOONE, Iowa (Sept. 11) – The Northern SportMod Austen Becerra built in his garage back home in Carthage, Ill., put him in victory lane twice over the course of six days at Boone Speedway.
The first occasion followed the Prelude feature on Sept. 5. The second came after Becerra won the Saturday night IMCA Speedway Motors Super Nationals fueled by Casey's championship.
"This is pretty big – everyone dreams of winning Super Nationals. I have ever since I started going as a kid to watch," said Becerra, who led the last 20 of 30 laps and banked $3,000 while becoming the first driver from Illinois to win the SportMod title at America's Racin' Vacation. "My mindset after winning the Prelude was that we were capable of it. The luck was there and it all paid off."
"Last year we didn't have any luck," he added. "If your first day is bad it seems like it goes downhill from there. This year we set ourselves up for success."
That success came from the fourth starting spot. Brayton Carter led Josh Most early, with Becerra taking over second following a lap four restart. The front pair started to pull away with Becerra getting underneath Carter for the lead on lap 11.
Carter ran second the rest of the way. Cousin Dylan VanWyk took over third and Alec Fett completed his charge from 17th starting into the top four on lap 27.
"I wasn't fazed by the yellow with 10 to go. With the yellow with five to go I was thinking 'Where do I need to be?'" Becerra said. "I moved back to the middle in (turns) three and four and the top of (turns) one and two was really good. The car was just so hooked up."
The Prelude and Super Nationals became the latest of Becerra's 20-plus wins in his Midstate Machine powered-BRC Chassis.
"Both these wins mean a lot to this little team. We won the Duel In The Desert last year and the Prelude and Super Nationals this year," he said. "I don't know what else we can win other than the Harris Clash and we will have to do that in a Modified next year."
Becerra won his first Super Nationals crown in his career third Saturday night start.
Rookie Izac Mallicoat finished fifth to pace the 15 first-time qualifiers in the Northern SportMod field. Tony Olson started his career ninth Big Dance, three-time champion Johnathon Logue his eighth.
Austin Schrage raced from 25th starting to sixth, Chase Alves from 27th starting to seventh. Eight states were represented in the main event.
Ryan Gillmore was slated to start from the pole but did not race, following the death overnight of his father Gary. His spot on the grid was left empty when the field took the initial green.
Feature results – 1. Austen Becerra, Carthage, Ill.; 2. Brayton Carter, Oskaloosa; 3. Dylan VanWyk, Oskaloosa; 4. Alec Fett, Burt; 5. Izac Mallicoat, Boone; 6. Austin Schrage, Cresco; 7. Chase Alves, Casa Grande, Ariz.; 8. Tyler Nerud, Dorchester, Neb.; 9. Eric Elliott, Boone; 10. Tyler Inman, Altoona; 11. Andrew Pearce, Oakley, Calif.; 12. Lee Horky, Fairbury, Neb.; 13. Hunter Longnecker, Woodward; 14. Nate Whitehurst, Mason City; 15. Kaylin Lopez, Chowchilla, Calif.; 16. Tyler Bannister, Bakersfield, Calif.; 17. Cameron Meyer, Pierce, Neb.; 18. Adam Birck, Canton, Mo.; 19. Johnathon Logue, Logansport; 20. Bo Partain, Casa Grande, Ariz.; 21. Jayden Schmidt, Seymour, Wis.; 22. Jim Horejsi, Marshall, Minn.; 23. Kenny Wyman Jr., Marshalltown; 24. Kyle Olson, Cedar Rapids; 25. Robbie Thome, Spalding, Neb.; 26. Jarett Franzen, Maquoketa; 27. Colby Fett, Algona; 28. Josh Most, Red Oak; 29. Tony Olson, Cedar Rapids; 30. Ryan Gillmore, Springfield, Mo.