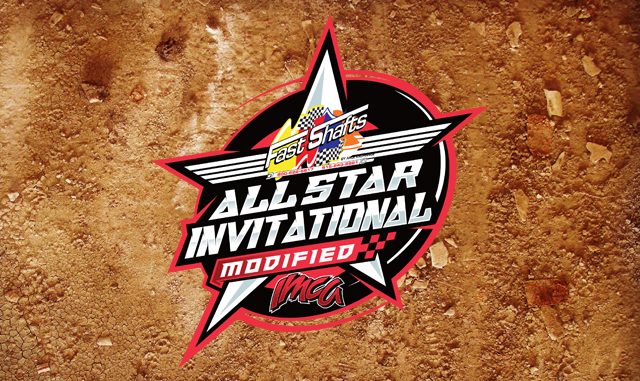 BOONE, Iowa – Two rounds of group time trial qualifying will determine 28 of the 30 Modifieds to start the Fast Shafts All-Star Invitational at the upcoming IMCA Speedway Motors Super Nationals fueled by Casey's.
On Thursday, Sept. 9, two drivers from each of the five Modified regions advance from round one with another 18 drivers earning at-large berths in round two. Groups will be separated by regions in round one and staggered into groups by round one qualifying times for round two.
The top driver in national points and the driver with the most 40-point feature wins competing at Super Nationals and not already qualified complete the field for the $1,000 to win All-Star Invitational on Friday, Sept. 10
Twenty-five dollars will be paid for each lap led courtesy of Elmquist Towing of Ames. The All-Star lineup will be determined by draw.
Drivers must be on the All-Star list at the registration tent to be eligible to qualify; that list will be updated through Sept. 4. Omissions should be corrected by contacting Media & Public Relations Director Bill Martin at the IMCA home office.
Fast Shafts All-Star Invitational qualifying eligible drivers now include:
Chris Abelson, Jeff Aikey, Austin Arneson, Casey Arneson, Chaz Baca, Jared Baird, Eric Barnes, Brandon Beckendorf, Eddie Belec, Chad Bennett, Hank Berry, Tom Berry Jr., Tanner Black, Cody Blixt and Steven Bowers Jr.
Ethan Braaksma, Jarrett Brown, Kyle Brown, John Campos, Cayden Carter, Chris Carter, Craig Cassell, Kellen Chadwick, Ty Clemens, Sawyer Crigler, Timmy Current, Jon DeBenedetti, Nick DeCarlo, Jerry Dedrick, Casey Delp and Shane DeMey.
Travis Denning, Zane DeVilbiss, Shane DeVolder, Brenten DeYoung, Spencer Diercks, Ethan Dotson, Tommy Dove, Logan Drake, Justin Dunn, P.J. Egbert, Chris Elliott, Shawn Fletcher, Jerry Flippo, Troy Foulger, Tripp Gaylord and Jesse Glenz.
Mike Goodson, William Gould, Jordan Grabouski, Kevin Green, Matt Guillaume, Travis Hagen, Michael Hale, Chase Hansen, John Hansen, Kyle Heckman, Toby Herring, Ryan Heskett, Kollin Hibdon, Jacob Hobscheidt, Bobby Hogge and Bobby Horton.
Jerry Hunt, Mitchell Hunt, Bricen James, Nate Jones, Billy Kendall, Austin Kiefer, Corey Kortum, Kyle Kudick, Benji LaCrosse, Cody Laney, Jeff Larson, Dennis LaVeine, Cody Leonard, Jimmy Lipke, Michael Long and Wade Lumsden.
Jake McBirnie, John McCaul, Rayce McCord, Ryan McDaniel, Zachary Madrid, Dalton Magers, Lance Mari, Eric Mass, Nick Meyer, Chris Mills, Jeremy Mills, Clay Money, Rodney Morgan, Chris Morris,Troy Morris III and Shawn Natenstedt.
Jake Nightingale, Jake O'Neil, Michelle Paul, Jim Pettit, Jake Pike, Jacob Pirkle, Brad Pounds, Joey Price, Max J. Quint, Jeffrey Reay, Clint Reichenbach, Ryan Roath, Bill Roberts Jr., Nick Roberts, James Roete and Jesse Rogotzke.
Anthony Roth, Joel Rust, Jim Sandusky, Robby Sawyer, Ken Schrader, Marlyn Seidler, Clay Sellard, Kelly Shryock, Todd Shute, Dylan Sillman, Riley Simmons, Chris Simpson, Brad Sites, Casey Skyberg, Brad Smith and Brandon Smith.
Alyssa Smith, Tom Smith, Jesse Sobbing, Dakota Sproul, Jeff Stephens, Shawn Strand, Matt Szecsodi, Regan Tafoya, Bart Taylor, Jeff Taylor, Peyton Taylor, Cody Thompson, Dylan Thornton, Ricky Thornton Jr., Marcus Tomlinson and Curtis Towns.
Gary VanderMark, A.J. Ward, Tim Ward, John Webb, Jon White Jr., Justin Whitehead, Johnny Whitman, Jerry Wilinski, Jesse Williamson, Collen Winebarger, Fred Wojtek, Austin Wonch, Marcus Yarie, Justen Yeager and Chris Zogg.