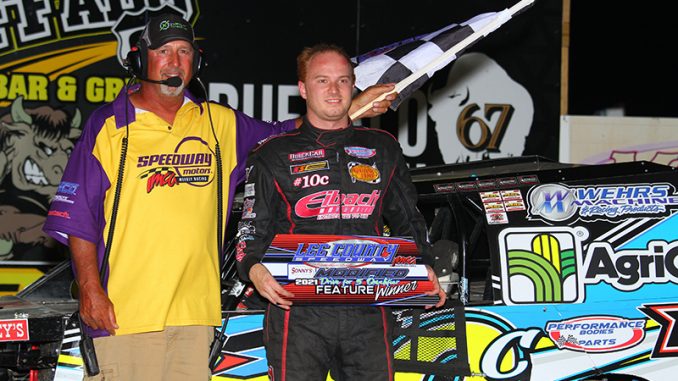 By Brian Neal
DONNELLSON, Iowa (Aug. 20) – Cayden Carter drove to the $5,000 IMCA Modified win at Lee County Speedway's Friday night Drive For 5 finale.
After two rounds of passing point heat races, Steve Picou and Chris Zogg earned the most points to start the 50-lap Hinkle Auto Sales Drive For 5 main event from the front row. Zogg took advantage of his starting spot to jump out into the lead on lap one over Picou and Carter.
On lap three, Carter overtook Picou to move into the runner-up spot and then went to work on Zogg for the lead.
Action was slowed on laps four and five for spinning cars and Zogg shot to the front on the ensuing restarts with Carter and Picou close behind.
Carter made the move into the top spot on lap eight as fifth-place starter Austin Howes moved in to challenge Zogg for second.
The side-by-side battle between Zogg and Howes allowed Carter to begin to pull away. The next thing to slow down Carter was the caution after lap 25 was scored complete. As the field was brought to a stop on the front stretch, teams were allowed to change anything on the car they could within a 10 minute time limit.
Carter led the field back to green, with Zogg and Howes continuing their battle for the runner-up spot. With the battles for positions going on behind him, Carter was able to pull away and without any cautions in the final 25 laps, go on to pick up the win.
Howes won the battle for second, while Zogg, Mark Burgtorf and Jeff Waterman completed the top five.
Feature results – 1. Cayden Carter; 2. Austin Howes; 3. Chris Zogg; 4. Mark Burgtorf; 5. Jeff Waterman; 6. Bill Roberts Jr.; 7. Drew Janssen; 8. Brandon Dale; 9. Donovan Lodge; 10. Steve Picou; 11. Michael Long; 12. Levi Smith; 13. Blake Woodruff; 14. Scott Boles; 15. Cody Bowman; 16. Dennis LaVeine.