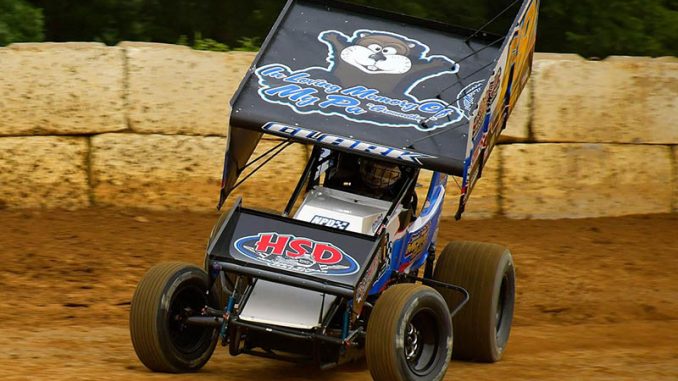 HAMERSVILLE, Ohio – Justin Clark already owns IMCA RaceSaver Sprint Car feature wins in five different states this season. 
He's hoping to add a sixth state to that list when he returns to Nebraska's Eagle Raceway for the RaceSaver Nationals Sept. 2-5.
From Hamersville, Ohio, Clark has won 13 times, in his home state and in Indiana, Kentucky, North Carolina and Pennsylvania. With 100 percent chance of rain close to home, he made the 15-hour tow to Nebraska in mid-July and won his heat race before Eagle got washed out as well.
"Our goal at the beginning of the year was to race for national points. We don't usually start racing too early in Ohio and Indiana and had to travel to do that," said Clark, second in national standings to Texan Marcus Thomas for most of the season. "I tell people that you don't know how good you are until you race with different people to see how good you stack up."
Through 29 starts, he's stacked up pretty well. Clark leads both Ohio Thunder Sprint Series and Schaeffer's Oil Indiana RaceSaver Sprint Series points; he's also chalked up feature wins with the Allegheny Sprint Tour, the Carolina Sprint Tour and the Laurel Highlands Sprint Series.
"If you race as much as you can, the only thing that happens is you get better," Clarks reasons. "I've raced a 410 a couple times and that's helped a lot. I've been running the same setups since I started in RaceSaver in 2018. I've just gotten better as a driver."
Clark qualified for the main event in his first trip to RaceSaver Nationals in 2019 and was the top non-qualifier last year.
"The nice thing about traveling and having raced with different series is that I pretty much already know a lot of the drivers I'll be racing with at RaceSaver Nationals," he said. "And it's nice to go back knowing we were good at Eagle when we were there in July. I feel like we have some momentum going in."
Clark had raced go karts for 13 years, then made all of two micro sprints starts before moving into the RaceSaver division. Grandfather Bob Conner, nicknamed Groundhog, raced in the 1960s and 1970s and died before Clark started racing 305s.
"The groundhog on my car is for my grandpa. He said he wanted to see me race a car before he died and he passed away in 2010, so I know he's riding with me every race now," Clark said.