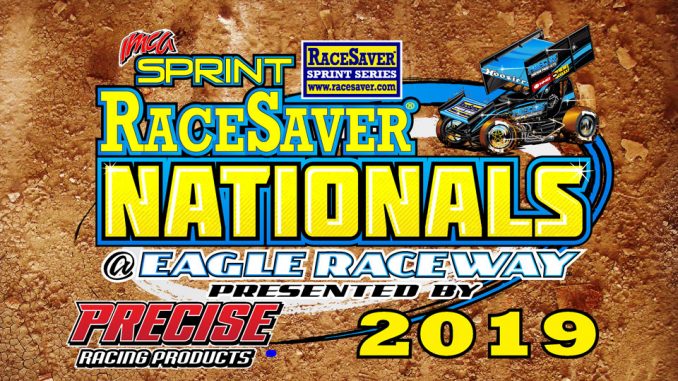 EAGLE, Neb. – The competition is already guaranteed to be top-rate at the seventh annual RaceSaver Nationals Aug. 29-Sept. 1. 
But Eagle Raceway and event promoter Roger Hadan hopes to see even more entries for the event with the Big Wings, Big Excitement billing. 
"We've got right around 100 drivers from 16 states pre-entered for this year's event," noted Hadan. "A lot of them have competed here before. They know what a prestigious event RaceSaver Nationals is. They want to come for the racing as well as the post-race atmosphere." 
"Defending champion Kevin Ramey and 2017 winner Jason Martin have already entered," he continued. "It would be great to see them get to race against more of the 2019 IMCA RaceSaver Sprint Car national contenders." 
Today (Tuesday, Aug. 20) is the final day drivers can pre-enter at the discount rate of $15. 
Pre-tech starts at 9 a.m. and practice starts at 6 p.m. Thursday, Aug. 29. Qualifying for Saturday's $1,000 to win Jake Ita Memorial Race of Champions starts at approximately 9 p.m. 
Racing starts at 6 p.m. Friday, Aug. 30, and Saturday, Aug. 31, and at 6:30 p.m. on Sunday, Sept. 1. Friday and Saturday qualifiers pay $700 to win and a minimum of $250 to start; nine cars advance to the $2,500 to win main event from those races and from last-chance qualifying on Sunday. 
Non-qualifiers earn a minimum of $450 if they start a race each day. Non-qualifier sponsors and vendor contributions add to the payout for Sunday "C" through "F" features, about an extra $100 or more per finishing position. 
IMCA also sponsors the "B" feature non-qualifiers. The "B" feature pays $1,000 to the first non-qualifier and last place in the "B" pays $500.  Mach-1 Sport Compacts join the Friday card, Karl Kustoms Northern SportMods run Saturday and IMCA Sunoco Hobby Stocks on Sunday. 
Pit parties follow Ita Memorial qualifying on Thursday and race programs Friday, Saturday and Sunday. 
Dr. Danger, aka the American Daredevil, will perform four-wheel stunts during intermissions throughout the weekend. 
Four-day spectator passes are available for the discounted price of $45 until Monday, Aug. 26. Grandstand admission is $2 on Thursday, $15 on Friday, $18 on Saturday and $20 on Sunday. Kids ages 6-12 are $5 and five and under get into the grandstand free Friday through Sunday. 
Pit passes are $15 for the Thursday practice and $30 each day Friday through Sunday. A four-day pit pass will be available to purchase on Thursday for the discounted price of $90. 
RaceSaver Nationals will be broadcast by IMCA.TV. 
Pre-entries for the seventh annual RaceSaver Nationals have been received from: 
Gene Ackland, Martell
Brandon Anderson, Glenpool, Okla.
Shayle Bade, Lincoln
Dusty Ballenger, Harrisburg, S.D.
Ethan Barrow, Bloomington, Ind.
Brett Becker, Odessa, Texas
Clint Benson, Papillion
Zach Blurton, Quinter, kan.
Daren Bolac, Moyock, N.C.
Brandon Bosma, Round Lake, Minn.
Mike Boston, Lincoln
Johnny Brown, Mauriceville, texas
Jake Bubak, Arvada, Colo.
Trey Burke, League City, Texas
Dwight Carter, Lincoln
Toby Chapman, Panama
Justin Clark, Hamersville, Ohio
Taylor Courtney, Fort Worth, Texas
Luke Cranston, Holcomb, Kan.
Blake Dacus, Fletcher, Okla.
Jason Danley, Lincoln
Joey Danley, Lincoln
Keith Dragoo, Greenwood
Tyler Drueke, Eagle
Claud Estes III, Godley, Texas
Daniel Estes, Mansfield, texas
Daniel Estes Jr., Burleson, Texas
Colby Estes, Mansfield, Texas
Jacob Gomola, Seneca, Pa.
Chip Graham, Lewisville, Texas
Trey Gropp, Lincoln
Trevor Grossenbacher, bennet
Adam Gullion, Lincoln
Ryan Hall, Midlothian, Texas
Rick Hansen, Omaha
Jacob Harris, Vidor, Texas
Jerald Harris, Dayton, Va.
Tyler Harris, Vidor, Texas
Rod Henning, Middletown, Ohio
Brooklyn Holland, Fresno, Calif.
Brandon Horton, Waterloo
Mike Houseman, Des Moines, Iowa
Jason Howell, Keller, Texas
Andrew Jackson, Fremont
Junior Jenkins, Greenville, Texas
Kaleb Johnson, Sioux Falls, S.D.
Gary Kelley, Ardmore, Okla.
Ryan King, Bennet
Ryan Kitchen, Seward
Chad Koch, Lincoln
Cody Ledger, Omaha
Doug Lovegrove, Waverly
Charlie McDonald, Jefferson, Texas
Austin McLean, Loveland, Colo.
Jake Martens, Fairview, Okla.
Jason Martin, Lincoln
Justin Melton, Justin, Texas
Michelle Melton, Flower Mound, Texas
Casey Merrell, Springtown, Texas
Jason Miller, Omaha
Joe Miller, Vail, Iowa
Mike Moore, Des Moines, Iowa
Ryan Navratil, Des Moines, Iowa
Daniel Nekolite, Oneill
Neil Nickolite, Bellwood
Rick Pendergast, Norfolk
Boyd Peterson, Ithaca
Shon Pointer, Grand Island
Jack Potter, Lees Summit, Mo.
Ken Potter, Harrisonville, Mo.
Kevin Ramey, Fort Worth, Texas
Matt Richards, Lincoln
Steven Richardson, Liberal, Kan.
John Ricketts, Burleson, Texas
Josh Riggins, Lincoln
Jeremy Schultz, Stewart, Minn.
Andy Shouse, Oklahoma City, Okla.
Colin Smith, Sheldon, Iowa
Stuart Snyder, Lincoln
Randy Sterling, Morrisdale, Pa.
Bradley Sterrett, Bloomington, Ind.
Dustin Stroup, Fremont, Ohio
Mark Vanderheiden, Papillion
Robert Vetter, Wolfe City, Texas
Charlie Ware, Hallieford, Va.
Jerrad Warhurst, Joshua, Texas
John Webster, North Platte
Chase Weiler, Lincoln
Nathan Weiler, Omaha
Dustyn Welch, Bryan, Texas
Dewayne White, Byhalia, Miss.
Chad Wilson, North Richland Hills, Texas