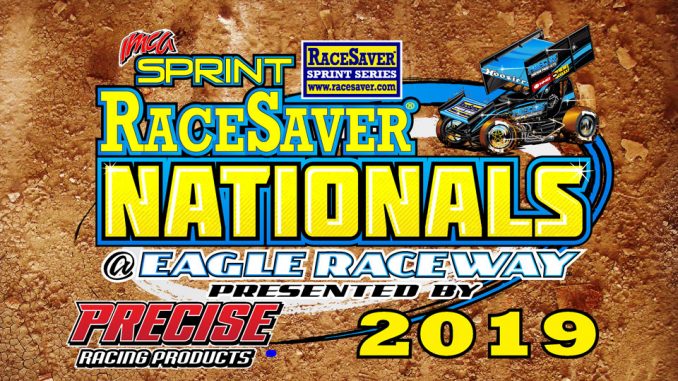 By Greg Soukup
EAGLE, Neb. – The first day of the seventh annual IMCA RaceSaver Nationals at Eagle Raceway kicked off Thursday afternoon with a press conference featuring past Nationals champions Kevin Ramey and Jason Martin as well as 2019 track champion Trevor Grossenbacher.
Also in attendance was this year's grand marshall, Dr. Danger who helped put on a small demonstration of the spectacular feats he will be performing throughout the weekend.
Then the Sprint Car teams that had made the trek to Eagle Raceway got a chance to jump on the track to either get familiar with the surface again or, for those who had never had the good fortune to participate in the event, learn its intricacies.
Qualifying heats for the Jake Ita Memorial Race of Champions were held later that evening to set the starting grid for the Saturday event. The line-up for that race are as follows:
Trevor Grossenbacher, Bennet Mike Moore, Des Moines, Iowa
Bradley Sterrett, Bloomington, Ind. Kaleb Johnson, Sioux Falls, S.D.
Adam Gullion, Lincoln Brooklyn Holland, Fresno, Calif.
Jake Martens, Fairview, Okla. Jason Martin, Lincoln
Andy Shouse, Oklahoma City, Okla. Blake Mallory, Joshua, Texas
Jake Bubak, Arvada, Colo. Kevin Ramey, Fort Worth, Texas
Ethan Barrow, Bloomington, Ind. Jacob Gomola, Seneca, Pa.
Jack Potter, Lees Summit, Mo. Tyler Drueke, Eagle
Trey Burke, League City, Texas Claud Estes III, Godley, Texas
Jeremy Schultz, Stewart, Minn. Jerald Harris, Dayton, Va.
Heat Results
1st ROC heat – 1. Sterrett; 2. Martin; 3. Barrow; 4. Schultz; 5. Dusty Ballenger, Harrisburg, S.D.; 6. Robert Vetter, Wolfe City, Texas; 7. Tyler Harris, Vidor, Texas; 8. Luke Cranston, Holcomb, Kan.
2nd ROC heat – 1. Grossenbacher; 2. Shouse; 3. Bubak; 4. Drueke; 5. Stuart Snyder, Lincoln; 6. Clint Benson, Papillion; 7. Jason Howell, Fort Worth, Texas.
3rd ROC heat – 1. Gullion; 2. Martens; 3. Potter; 4. Burke; 5. Doug Lovegrove, Waverly; 6. Chad Wilson, North Richland Hills, Texas; 7. Ryan Hall Midlothian, Texas.
4th ROC heat – 1. Johnson; 2. Holland; 3. Ramey; 4. Jerald Harris; 5. Johnny Brown Jr., Orange, Texas; 6. Jacob Harris, Vidor, Texas; 7. Dwight Carter, Lincoln.
5th ROC heat – 1. Moore; 2. Mallory; 3. Gomola; 4. Estes; 5. Daren Bolac, Moyock, N.C.; 6. Charlie Ware, Hallieford, Va.; 7. Chase Brewer, Waxahachie, Texas.
Friday's action will kick off with hot laps at 5 p.m. and racing at 6 p.m. Heats and features will be run to determine who will grab the first three rows for the Big Show on Sunday when the top 27 racers will take off three-wide for 35 laps.
Also on tonight's racing card will be the ATV Motorsports IMCA Sport Compacts. Pit gates open at 3 p.m. and pit passes are $30.
The front gates will open at 4:30 p.m. Adult admission is $15, children ages 6-12 are $5 and children five and under are free.
RaceSaver Nationals will be broadcast by IMCA.TV.