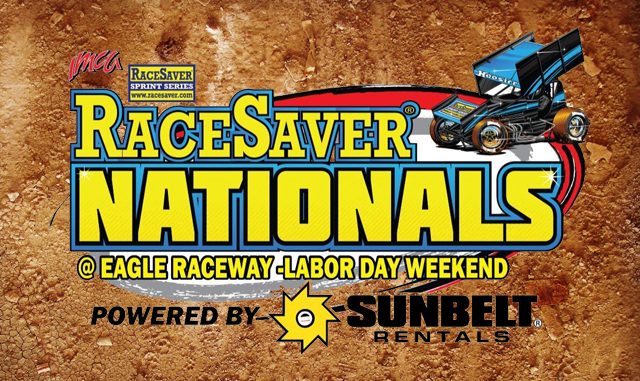 EAGLE, Neb. – IMCA Sprint Car teams from across the country and from up the road are already arriving at Eagle Raceway for the Sept. 2-5 RaceSaver Nationals powered by Sunbelt Rentals.
"We've got all sorts of stuff going on," Promoter Roger Hadan said this morning. "We've already got cars here from North Carolina and Virginia, and we've got a car rolling through tech now that's from a mile up the road. We've got cars from a mile away and we've got cars from more than a thousand miles away."
More than 100 drivers from 16 states coast to coast and border to border are pre-entered for the ninth annual Sprint Car spectacular, to be broadcast by IMCA.TV.
Precise Racing Products, sponsor of the Race of Champions, gives a fuel jug to the first 80 drivers through tech. Hadan also promised there'd be "plenty of tires and plenty of fuel" available throughout the event.
Qualifying starts on Friday with the winner main event winner on Sunday taking home $3,000 plus a $1,500 bonus from IMCA if they've made at least one sanctioned start coming into the weekend. The finale pays a minimum of $1,500 to start.
Thursday pre-tech starts at 9 a.m. and practice runs from 6-8:40 p.m. followed by qualifying for the Saturday Race of Champions. Grandstands and pits open at 5 p.m.
Friday heats, preliminary features and the "A" feature which will set the first three rows for Sunday's main event. Pits open at 3 p.m. and pit passes are $35. Grandstands open at 4:30 p.m. with adult admission $15.
On Saturday, qualifying sees heats and features to decide rows four through six for Sunday. Front gates open at 4:30 p.m. Admission for adults is $18. Pits open at 3 p.m. and pit passes are $35.
The Race of Champions follows the Saturday qualifying feature and pays $1,000 to win.
Preliminary features fill the last three rows for Sunday's 30-lap Big Dance. Front gates open at 4:30 p.m. and adult admission is $20.
Kids ages 6-12 get into the grandstand for $5 and six and under are free each night.
Pit parties follow each race program.