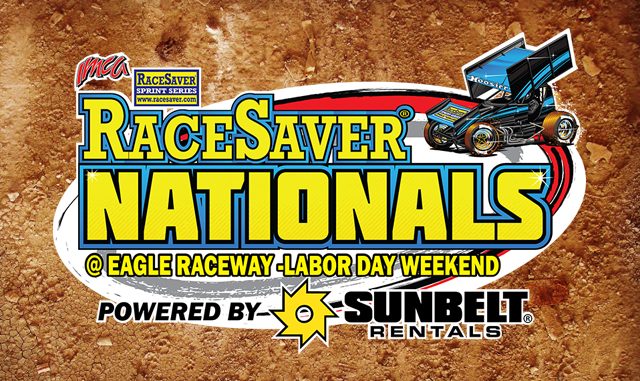 EAGLE, Neb. – What's guaranteed to be the biggest and the best Sprint Car event of the season plays out Sept. 3-6 at Eagle Raceway.
One hundred-plus IMCA drivers from 15 states are already entered in the eighth annual RaceSaver Nationals, each of them making the trip with the goals of making the 27-car field and ultimately taking the $2,500 checkers.
"The quality of the competition speaks for itself. Winning the RaceSaver Nationals title has quickly become an accomplishment that every driver wants on their resume," said promoter Roger Hadan. "RaceSaver Nationals is also an event that's just fun to be part of, whether you're a driver or a fan, and I think that's what really makes it special."
Qualifying heats for the $1,000 to win Jake Ita Memorial Race of Champions follow pre-tech and practice on opening night on Thursday.
Nine cars advance from $700 to win qualifying features on Friday and Saturday. Last-chance races complete the Sunday, Sept. 6 main event grid.
Stuntman Dr. Danger, also known as The American Daredevil, performs during intermissions throughout the weekend. Parties in the pit follow all four race programs, with the band Jacked on stage Sunday night.
The dodgeball tournament to benefit the Juvenile Diabetes Research Fund and driver meet and greet and autograph session precede the Sunday race program. Miss Eagle Raceway will be crowned during an intermission that evening.
"With so many things to do off the track, RaceSaver Nationals has become something of a big family reunion," Hadan said. "We all enjoy getting to see so many of our racing friends from so many different places during the Labor Day Weekend."
Registration after Aug. 24 is $100. Entry forms and more information about the RaceSaver Nationals Powered by Sunbelt Rentals are available at www.racesaver.com.
Mach-1 Sport Compacts also run on Friday, Karl Kustoms Northern SportMods on Saturday and IMCA Sunoco Hobby Stocks on Sunday at Eagle.
Drivers pre-entered for RaceSaver Nationals include:
Gene Ackland, Brandon Allen, Bruce Allen, Justin Allen, Shayle Bade, Dusty Ballenger, Nate Barger, Nick Barger, Ethan Barrow, Bobby Becker, Brett Becker, Tom Belsky, Clint Benson, Zach Blurton, Daren Bolac, Mike Boston, Chase Brewer, Jake Bubak, Trey Burke, Casey Burkham,Owen Carlson and Dwight Carter;
Kevin Champoux, Toby Chapman, Justin Clark, Jason Danley, Joey Danley, Mason Daugherty, Chris Douglas, Tyler Drueke, Claud Estes III, Colby Estes, Daniel Estes, Matt Etzelmiller, Gary Floyd, Tim Fricke, Jacob Gomola, Charlie Graham, Trey Gropp, Trevor Grossenbacher, Aaron Guillaume, Adam Gullion and Ryan Hall;
Rick Hansen, Jacob Harris, Mark Harris, Tyler Harris, Logan Hershey, Philip Heynen, Brandon Horton, Mike Houseman, Jason Howell, Andrew Jackson, Junior Jenkins, Nate Johnson, Gary Kelley, Ryan King, Christian Kinnison, Ryan Kitchen, Chad Koch, Cody Ledger, Doug Lovegrove, Dylan McCann, Jesse Mack and Jason Martin;
Keith Martin, Justin Melton, Casey Merrell, Jason Miller, Mike Moore, Justin Mowry, Alex Nalon, Ryan Navratil, Daniel Nekolite, Neil Nickolite, Shane O'Banion, Michael Oliver, Mark Pace, Michelle Parson, John Paynter Jr., Rick Pendergast, Boyd Peterson, Sean Quinn, Willy Reed, Jeff Reiman and Matt Richards;
And John Ricketts, Jay Russell, Troy Sanford, Dan Satriano, Jeremy Schultz, Blake Scott, Trevor Serbus, Andy Shouse, Stuart Snyder, Randy Sterling, Bradley Sterrett, Dustin Stroup, Sean Vardell, Jerrad Warhurst, John Webster, Chase Weiler, Nathan Weiler, Aaron Werner, Dewayne White, Richard Wilbee, Chad Wilson and Mark Zoeller.