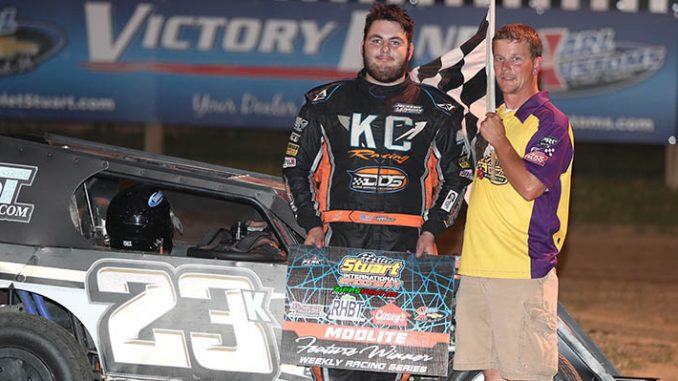 RIDGEWAY, Mo. – As a spectator at Boone Speedway last September, Kaden Cochrun watched other drivers compete on IMCA's biggest stage.
As a first-time competitor this year, he hopes to be standing on the stage at the 39th annual IMCA Speedway Motors Super Nationals fueled by Casey's.
The California native and now Ridgeway, Mo., transplant will be among the contenders for the first-ever IMCA STARS Mod Lite championship at Super Nationals.
"I already know how big this race is. There are going to be a lot of good drivers there and any one of them could win it," said Cochrun, who turned 18 in early August. "It would be pretty cool if I could be the first Mod Lite Super Nationals champion. That would definitely be a trophy that would stay on display in the house for a while."
Cochrun started racing in a mini-dwarf class, moving up to the Mod Lite and racing out of the shop of Zac Forster for five years, then spending most of the 2020 season racing in the Midwest.
"Last year, we went to Florida for a big race and we struggled. We realized we needed to race against other drivers at other tracks to get better so we traveled a lot then, too, racing in Iowa, Missouri and Arkansas," he explained. "We wanted to get experience on different tracks. There was only so much we could learn racing with the same people in California and Arizona."
After starting the 2021 season in Florida, Cochrun now has starts at 15 different tracks in five states to his credit. Three of his first nine wins have come at Stuart Speedway in Iowa, a track that fits his driving style.
"When you can race with other people at their home track and have success, it makes you feel good," he said. "There has been some pressure as far as chasing national points but my dad told me to stop worrying about that and at the end of the year we'll see how it all plays out."
Cochrun quickly became a fan of the benefits of IMCA membership.
"The sanction is definitely cool. There is so much stuff out there for contingency awards," he said. "I've enjoyed the gift certificates and the recognition I've gotten."
There may be a day when Cochrun receives that recognition in another IMCA division.
"I would like to race a Modified some day," he said, "and see if we can run with those guys."