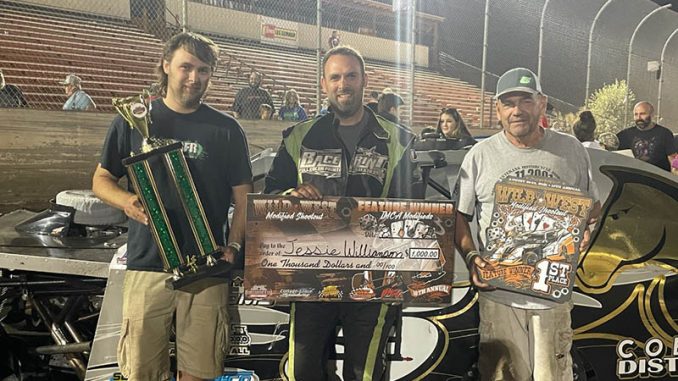 By Ben Deatherage
LEBANON, Ore. (Aug. 6) – Four-time series champion Jesse Williamson was the winner Friday night as the Wild West IMCA Modified Shootout returned for the first time since June 29, 2019.
The site of that last appearance was at Willamette Speedway in Lebanon. That would be the venue to host the opening leg of the 2021 schedule.
At the beginning of the 40-lap, $1,000 to win main event, Williamson took the top place position on the opening start. After that, the field underwent a long twenty-three-lap green flag run, bringing some traffic into play.
Williamson was briefly harassed by some contenders but managed to carve his way through lapped traffic. Three stoppages took out any further contact with the back of the field and put more emphasis on the restarts.
Williamson was challenged briefly by Collen Winebarger. The two were briefly go side-by-side but Williamson, already Fast Shafts All-Star Invitational qualifying eligible, kept him in check for his sixth straight win this season and career 13th in series action.
Winebarger held onto the second spot, while third was Mark Carrell. Eston Whisler and Brian Thompson were fourth and fifth, respectively.
In Karl Kustoms Northern SportMod competition, Dustin Comer seized the point right from the get-go and had no issue during green flag action or even on the several restarts.
Comer scored his fifth victory on the season and first at Willamette. Ryan Peery and Trevor Points were second and third at the finish line. David Schmidt recovered from an earlier race incident for fourth while Chris Frisbie got fifth.
Feature Results
Modifieds – 1. Jesse Williamson; 2. Collen Winebarger; 3. Mark Carrell; 4. Eston Whisler; 5. Brian Thompson; 6. John Gaynor; 7. Jake Mayden; 8. Grey Ferrando; 9. Greg Walters; 10. Jeffrey Hudson; 11. Jerry Schram; 12. Mark Gaylord; 13. Ian Whisler; 14. Danny Lauer; 15. Dan Philpott; 16. Todd Shandy; 17. Devon Reed; 18. Trevor LaBarge; 19. Paul Rea; 20. Aaron Sheelar.
Northern SportMods – 1. Dustin Comer; 2. Ryan Peery; 3. Trevor Points; 4. David Schmidt; 5. Chris Frisbie; 6. Skyler Winebarger; 7. Daniel Ray; 8. Sandy Sanders; 9. Roger Bell; 10. Bruce Ray; 11. K.C. Scott; 12. Matt Brown; 13. Mitchell Jamison; 14. Tanner Krohling; 15. Kevin Kirk; 16. Jeff Brookshire.