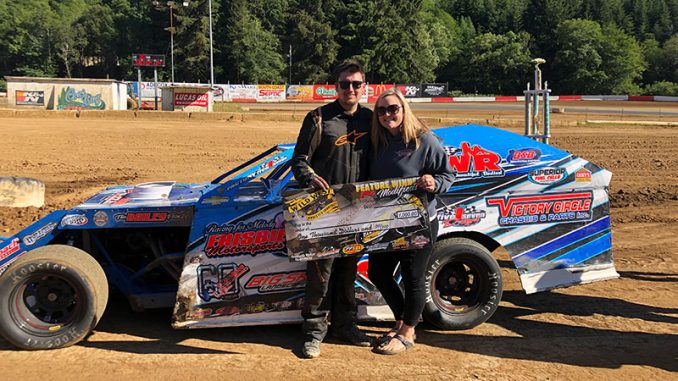 By Ben Deatherage
COOS BAY, Ore. (June 23) – Collen Winebarger became the first repeat winner in the Wild West IMCA Modified Shootout, with a flag-to-flag run in front of the Sunday Gambler field at Coos Bay Speedway.
The $1,000 win followed Winebarger's Saturday victory at Southern Oregon Speedway, which had put him on the Fast Shafts All-Star Invitational ballot. And like the opening night show Friday at Yreka, the feature ran caution-free.
Winebarger took the lead at the drop of the green flag, got up on the wheel and outpaced the rest of the field. He worked traffic late in the race, putting 12 of the 20 starters down at least a lap.
Winebarger earned his fifth career Wild West Shootout main event win and first at Coos Bay. He is also the first driver since Kellen Chadwick in 2016 to win consecutive races.
Chadwick was second for the second straight night, while Travis Peery of North Dakota crossed the wire in third. Bricen James scored a fourth-place result in his first appearance of the week with Grey Ferrando completing the top five.
The Wild West Shootout will head to Cottage Grove Speedway for the first of two straight nights of racing starting on Monday, June 24, and Tuesday, June 25. Racing begins at 6 p.m. both nights.
Feature results – 1. Collen Winebarger; 2. Kellen Chadwick; 3. Travis Peery; 4. Bricen James; 5. Grey Ferrando; 6. Jerry Schram; 7. Danny Lauer; 8. Jeff Faulkner; 9. Matthew Drager; 10. Shane Devolder; 11. Paul Rea; 12. Derick Young; 13. John Campos; 14. Eston Whisler; 15. Eston Whisler; 16. Lawrence O'Connor; 17. Geoff Morris; 18. Jimmy Lipke; 19. Ryan Lauer; 20. Jesse Williamson.