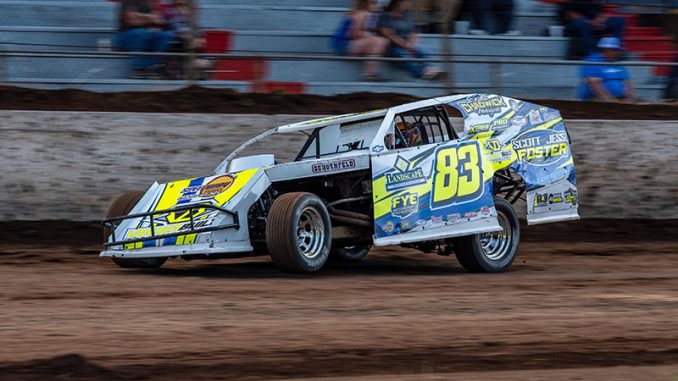 By Ben Deatherage
COTTAGE GROVE, Ore. (June 24) – After runner-up finishes each of the last two nights, Kellen Chadwick stood on the top step of the podium following Monday evening's Wild West IMCA Modified Shootout at Cottage Grove Speedway.
Chadwick ended Collen Winebarger's winning streak at two with the $1,000 victory, putting his name of the Fast Shafts All-Star Invitational ballot in the process.
Winebarger looked primed to three-peat, setting a rapid pace from his outside pole start and building a huge lead over the rest of the field.
The leader encountered heavy lapped traffic in the final half of the main event and began to come under pressure from the second-running Chadwick.
The California challenger tried several times to make a pass underneath or around the outside, but each time Winebarger thwarted those advances. Unfortunately, the two touched briefly in turn one on lap 32, resulting in Winebarger spinning.
Winebarger went to the tail of the field, Chadwick inherited the lead with three laps to go and held onto the top spot the rest of the way to win collect his fifth career Wild West Shootout victory.
Bricen James, Shane DeVolder, defending series champion John Campos and Matthew Drager completed the top five.
The highest car count through the first four events was hit with 42 drivers making the journey to the historic quarter-mile, representing five states and one Canadian province.
Feature results – 1. Kellen Chadwick; 2. Bricen James; 3. Shane Devolder; 4. John Campos; 5. Matthew Drager; 6. Curtis Towns; 7. Aaron Sheelar; 8. Jeffrey Hudson; 9. Mark Carrell; 10. Jake Mayden; 11. Derick Young; 12. Paul Rea; 13. Eston Whisler; 14. Jeff Faulkner; 15. Jimmy Lipke; 16. Geoff Morris; 17. Collen Winebarger; 18. Grey Ferrando; 19. Ryan Lauer; 20. Jake Pike.