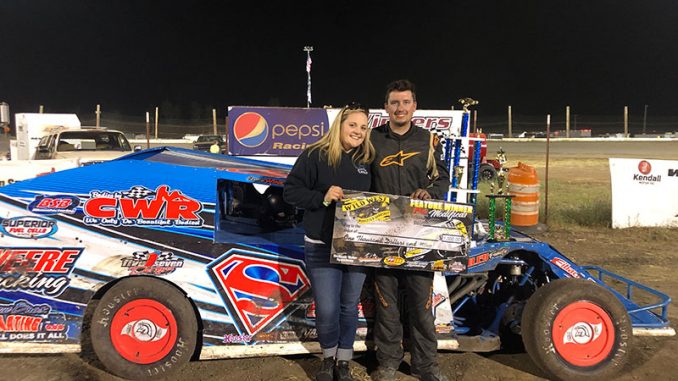 By Ben Deatherage
WHITE CITY, Ore. (June 22) – Another defending race winner was first to the checkers, on night two of the Wild West IMCA Modified Shootout
Collen Winebarger topped Saturday's main event at Southern Oregon Speedway, gaining a Fast Shafts All-Star Invitational ballot berth with the $1,000 victory, his series second in a row at White City.
Kellen Chadwick took full advantage of his pole starting spot, taking the lead early and remaining there much of the race. Chadwick cruised until the culminating laps when he was briefly barri­caded by traffic.
Winebarger managed to cut down Chadwick's lead and for the first time in the feature put signifi­cant pressure on the leader. The two battled briefly until lap 33 when Winebarger edged out in front.
Winebarger went on to win the main event, his career fourth Wild West Shootout triumph. Chad­wick, Jesse Williamson and Zach Fettinger were next across the stripe, while Jerry Flippo posted a fifth in his series first career feature start.
Nick Trenchard had repeated his winning ways on opening night at Yreka.
Thirty-nine cars filled the pit area representing the states of Oregon, California, Nevada, Washing­ton, and North Dakota as well as the Canadian province of British Columbia.
Feature results – 1. Collen Winebarger; 2. Kellen Chadwick; 3. Jesse Williamson; 4. Zach Fettinger; 5. Jerry Flippo; 6. Jeffrey Hudson; 7. Grey Ferrando; 8. John Campos; 9. Matthew Drager; 10. Shane DeVolder; 11. Nick Trenchard; 12. Jimmy Lipke; 13. Carl Berendsen; 14. Mark Car­rell; 15. Jesse Bailey; 16. Lawrence O'Connor; 17. Travis Peery; 18. Albert Gill; 19. Danny Lauer; 20. Ryan Lauer.