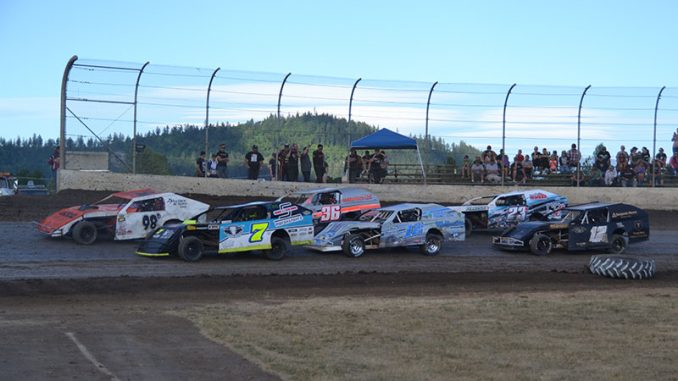 By Ben Deatherage
YREKA, Calif. – The ninth annual IMCA Wild West Modified Shootout is ready to get started with eight $1,000 to win features on the series schedule.
Teams from Oregon, Washington, California, North Dakota, British Columbia, and beyond are expected to make the journey. The Speedweek extravaganza ventures to some of the best racing facili­ties in California and Oregon.
All features are qualifying events for the 2019 Fast Shafts All-Star Invitational ballot and pay a minimum of $100 to start.
The party gets started on Friday, June 21 at Siskiyou Motor Speedway in Yreka, Calif., for the only date in the Golden State. Saturday, June 22 will have the tour make the short jump over the border to Southern Oregon Speedway in White City. Making a detour off Interstate 5, the tour makes the curvy serpentine journey west on Highway 42 to the Oregon Coast's Coos Bay Speed­way on Sunday, June 23.
The tour will spend Monday and Tuesday, June 24 and 25 at Cottage Grove Speedway before embarking on their farthest venue north, at Bank's Sunset Speedway Park on Wednesday, June 26.
The lone day of rest is reserved for Thursday, June 27 when FinishLine Graphics hosts the Driver Ap­preciation Party at Willamette Speedway with great food and fun games. The week will be closed out at Willamette Speedway, in Lebanon, on Friday and Saturday, June 28 and 29, where the 2019 champion will be crowned.
John Campos is the defending Shootout champion despite not winning a race during the 2018 tour. Collen Winebarger and Jesse Williamson were the only multi-feature victors capturing two checkered flags each. Bricen James, Grey Ferrando, Nick Trenchard and Ethan Dotson all man­aged to pay victory lane one visit in 2019.