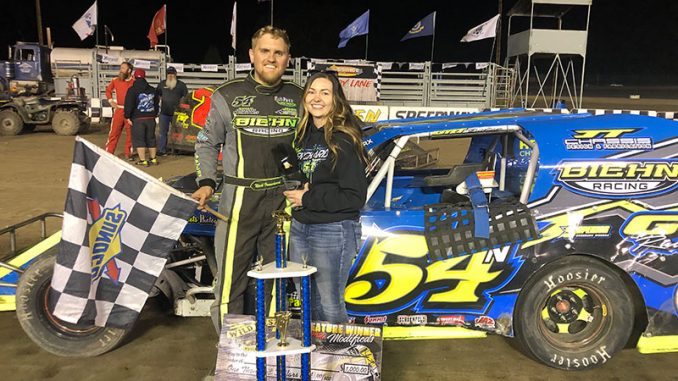 By Ben Deatherage
YREKA, Calif. (June 21) – Another Wild West IMCA Modified Shootout event at Siskiyou Golden Speedway ended with Nick Trenchard in victory lane.
Trenchard raced to his third straight Shootout win at Yreka on Friday, earning $1,000 and a Fast Shafts All-Star Invitational ballot berth along with the opening night tour checkers.
Danny Lauer set a torrid pace for much of the race, cruising right along until hitting thick lapped traffic around halfway. Trenchard began to give chase and reeled in Lauer,thus beginning his bid for the lead.
Trenchard and Lauer had a seesaw struggle for the top spot before in traffic before Trenchard secured the position on lap 25. The race went green to checkered and Trenchard held on the rest of the distance unchallenged to win his third straight series race at Siskiyou.
It marked his fourth career Wild West Modified Shootout feature triumph.
Lauer ended the night second while Jerry Schram placed third. Matthew Drager collected an impressive fourth over fifth-finishing Jesse Williamson.
All consolation features before the main event also went non-stop.
Feature results – 1. Nick Trenchard; 2. Danny Lauer; 3. Jerry Schram; 4. Matthew Drager; 5. Jesse Williamson; 6. Collen Winebarger; 7. Duane Orsburn; 8. Mark Carrell; 9. Kellen Chadwick; 10. Jeff Faulkner; 11. Grey Ferrando; 12. Jeffrey Hudson; 13. Travis Peery; 14. Jake Pike; 15. John Campos; 16. Jimmy Lipke; 17. Carl Berendsen; 18. Eston Whisler; 19. Albert Gill; 20. Paul Rea.