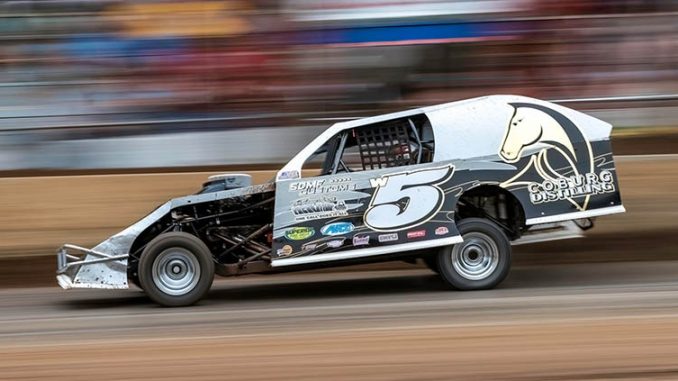 By Ben Deatherage 
COTTAGE GROVE, Ore. (July 31) – Night two of the Mark Howard Memorial Cottage Grove Speedway IMCA Modified Nationals took place on Saturday, July 31.
The 52-lap, $2,600 to win feature started off with Jesse Williamson obtaining the lead on the initial start. After that, the Coburg chauffeur reigned supreme against the competition but did have to be smart on the restarts. As a result, eight total stoppages occurred, including four in the last dozen circuits.
There were points in which lapped traffic was caught and Williamson was briefly challenged; he flexed his muscle against the field from those times on. Nevertheless, Williamson swept the weekend en route to his record seven Mark Howard Memorial Cottage Grove Speedway titles.
Already Fast Shals All-Star Invitational qualifying eligible, Williamson has amassed an impressive five straight wins to his credit, going back to Independence Day, when he was victorious for the first time in 2021.
Collen Winebarger was second with Nick Trenchard ending the race third. Grey Ferrando placed fourth over consolation winner Jake Mayden.
A new face emerged victorious in the Karl Kustoms Northern SportMods. Anthony Pope captured the lead on lap seven and didn't look back from there.
Pope overtook Skyler Winebarger to gain first place in the running order. Winebarger had taken control of the top place position on lap six earlier when he maneuvered around Shawn Hand.
Pope dominated the rest of the way to earn his first career victory in the division. He is the third driver to win on the final night of the CGS Mod Nationals in Sport Mod competition.
Jordan Henry wound up second with Aaron Bloom grabbing third. Dustin Comer and Matt Sanders were fourth and fifth, respectively, in the finishing order.