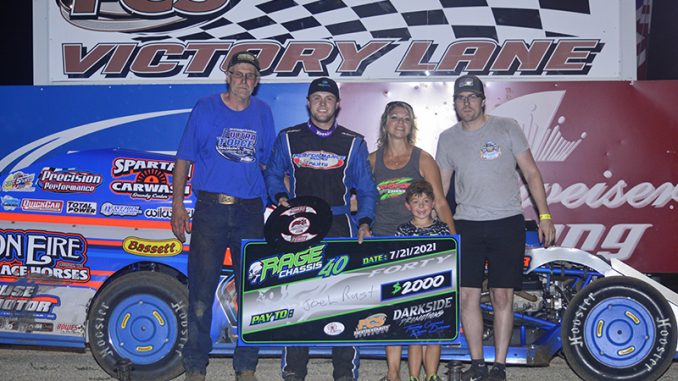 By Zakary Kriener
WEST UNION, Iowa (July 21) – With ferris wheel and carnival lights providing a picture-perfect backdrop at Fayette County Speedway Wednesday night, IMCA Modifieds headlined the annual fair races provided plenty of action and a thrilling conclusion.
Joel Rust was the $2,000 feature winner at the inaugural Rage Chassis 40, leading the last two times around the West Union oval.
"It was pretty cool. It was fair night and the grandstand was packed," said Rust, already Fast Shafts All-Star qualifying eligible. "It was fun to put on a show and the track was really racy."
"I tried to find a quicker way around and was able to do that," he added. "It was good to be able to get up on the wheel and put on a show."
Mike Burbidge had set the pace early before Cody Laney took over the top spot less than a fourth of the way through the race. Laney maintained a solid lead over the rest of the pack for the majority of the race but the second-running Rust kept his sights set on the 5L car.
With two laps to go, Rust was able to use the high line to his advantage and power past Laney and cash in on the $2,000 Rage Chassis 40 payday. Laney crossed the line second in the race but was later disqualified for a front suspension violation.
Moving up on the results sheet were Tyler Droste, national points leader Jeff Larson, Brennen Chipp and Jake Steere to complete the top five.
Early race leader Burbridge took seventh, Rage Chassis owner and race sponsor Justin O'Brien finished ninth at his hometown track and Grag Kastli was the night's hard charger as he finished 10th after advancing nine spots in the race.
"The money was great but there were so many good cars here," said Rust, who'd finished out of the running in his one previous Fayette County Speedway outing three years ago. "There's a lot of satisfaction to be able to race with those guys."
Feature results – 1. Joel Rust; 2. Tyler Droste; 3. Jeff Larson; 4. Brennen Chipp; 5. Jake Steere; 6. Troy Cordes; 7. Mike Burbridge; 8. Josh Barta; 9. Justin O'Brien; 10. Greg Kastli; 11. Jordan Bacon; 12. Ed Thomas; 13. Jeff Aikey; 14. Jed Freiburger; 15. Tony Snyder; 16. Keith Pittman; 17. Kelly Shryock; 18. Milo Veloz; 19. Chris Snyder; 20. Bret Ramsey.