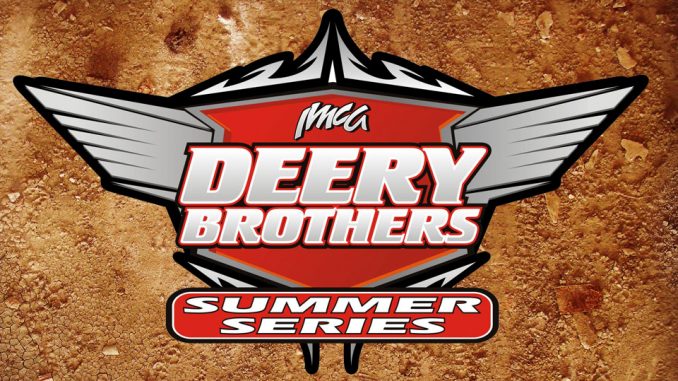 WEST UNION, Iowa – A blue ribbon-worthy show is guaranteed when the Deery Broth­ers Summer Series headlines the Wednesday, July 24 race program at Fayette County Speed­way.
The IMCA Late Model tour main event pays $2,000 to win and a minimum of $300 to start. Todd Cooney of Des Moines was the winner when the series made its much-anticipated return to West Union and the Fayette County Fair last summer.
Pit gates open at 4 p.m. and the grandstand opens at 4:30 p.m. Hot laps are at 7 p.m. with racing to follow. Spectator admission is $20 for adults and free for ages 11 and under. Pit passes are $25.
More information is available by calling 319 327-2733 and at the www.fayettecountyspeedway.net web­site.
Cooney became the fifth different driver to win a Deery event at Fayette County.
Dan Forsyth of Oelwein topped the 1994 event while Jeff Aikey of Cedar Falls won there in 1995 and 1996. Quincy, Ill.'s Mark Burgtorf collected the 1998 checkers and fellow Illinois hotshoe Ray Guss Jr. of Milan was the winner in 2009.
"The race at West Union was one of the best of the 2018 series season and we've been looking forward to getting back there since the 2019 schedule was finalized," said Tour Director Kevin Yoder. "We've heard a lot of great things about improvements to the grandstand and can't wait to see them for ourselves."
Justin Kay of Wheatland, Aikey and Joel Callahan of Dubuque have each won one series event so far this season. Kay, the three-time and defending series champion, and defending national Late Model champion Jeremiah Hurst of Dubuque share the point lead heading to West Union for the 494th event in Deery history.
The July 17 event at CJ Speedway in Columbus Junction lost to rain will not be made up.
A busy August is ahead for the tour, with dates at Lee County Speedway on Aug. 2, at Quad City Speedway on Aug. 11, at Quincy Raceway on Aug. 18 and at West Liberty Raceway on Aug. 24.
The Deery Series then gets top billing in the Monday, Sept. 2 opening night program at the IMCA Speed­way Motors Super Nationals fueled by Casey's at Boone Speedway.
Deery Brothers Summer Series top 20 point standings – 1. Justin Kay, Wheatland, and Jere­miah Hurst, Dubuque, both 138; 3. Joel Callahan, Dubuque, 136; 4. Matt Ryan, Davenport, 135; 5. Andy Eckrich, Oxford, 132; 6. Curt Martin, Independence, 125; 7. Chad Holladay, Muscatine, 117; 8. Darrel DeFrance, Marshalltown, 116; 9. Andy Nezworski, Buffalo, 111; 10. Todd Malm­strom, Hampton, Ill., 106; 11. Joe Zrostlik, Long Grove, 104; 12. Jeff Aikey, Cedar Falls, and Paul Nagle, Nevada, both 99; 14. Dalton Simonsen, Fairfax, 98; 15. Tyler Bruening, Decorah, 92; 16. John Emerson, Waterloo, 89; 17. Brian Harris, Davenport, 88; 18. Terry Neal, Ely, 85; 19. Eric Pollard, Peosta, and Gary Webb, Blue Grass, both 82.