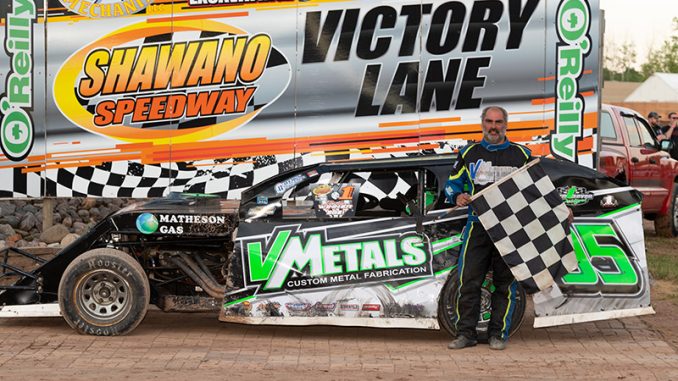 By Dave Buss
SHAWANO, Wis. (June 19) – Last week it was the future in the spotlight, this week it was the past as two new members were inducted into the Hall of Fame at Shawano Speedway. 
George Giesen and Ed Bertram were honored for their past accomplishments at the speedway and in racing. With friends and family along with numerous current and former drivers who have benefited from the new Hall of Famers' contributions to the racing world in attendance, the two were honored in a ceremony at intermission. 
IMCA Modifieds hit the track with numerous drivers who got their start in go carts at the GSR Raceway run by Bertram. It didn't take long until the yellow slowed the action with Jeff Bodendorfer leading the way. Green flew again and it was Bodendorfer building a lead as Lance Arneson ran second and Konnor Wilinski third. 
Bodendorfer built a lead of nearly a second. Arneson began to make his way forward and grab the top spot for lap 17 but Bodendorfer fought right back the next lap. As the white flag flew, Arneson made one more charge to no avail. Bodendorfer grabbed the win with Arneson second, Wilinski third and Jason Czarapata fourth. 
The IMCA Sunoco Stock Cars rolled trackside with a pair of veteran drivers on the front row as Rod Snellenberger and Darren Otto led the way. Snellenberger showed he still knows his way around the half-mile as he began to get away. Trent Nolan had other plans and began to track down the Snellenberger car.
Nolan got to the outside of the Snellenberger car but could not make the pass. At the halfway point, Nolan led Snellenberger, Brandon Czarapata and last week's feature winner Dylan Stedjee.
Nolan fired to a nice lead on a restart with Czarapata moving to second. Travis Van Straten moved to third with Snellenberger falling back to fourth before debris caused the yellow to fly with six laps to go. 
Czarapata moved to the high side looking for a way around Nolan but would not find the traction needed to complete the pass. As Czarapata focused on the leader, Van Straten began to work on Czarapata. Nolan hung on for the win with Van Straten grabbing second and Czarapata third
Jake Carpenter grabbed the lead from the drop of the green flag in the Karl Kustoms Northern SportMod feature and built a large advantage. Jayden Schmidt was working forward with Tyler Sobiesczyk and Matthew Radtke.
While the perennial front runners were battling it was Carpenter continuing to hold the top spot. Schmidt set his sights on Carpenter as he moved to second. A caution eliminated the hard work of Carpenter and moved the field to his rear bumper. Carpenter looked like he would survive the restart but Schmidt kept him close.
With laps winding down, Schmidt made his move and grabbed another win. Carpenter settled for second, with Sobiesczyk third and Radtke fourth.