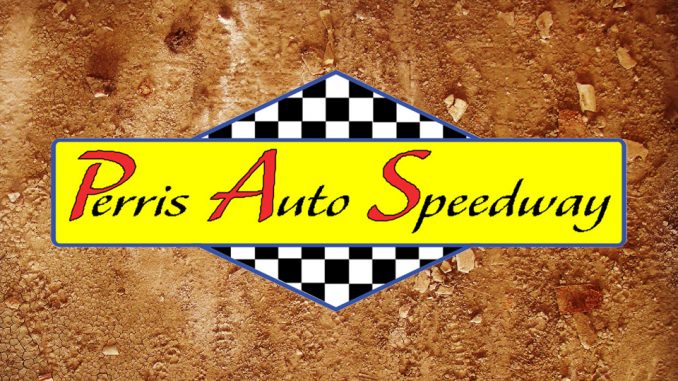 By Scott Daloisio
PERRIS, Calif. – Due to the love of racing from an anonymous donor, the next six weeks could be very lucrative for IMCA Modified racers at Perris Auto Speedway.
From this Saturday night, June 12, through July 24th, there will be four PASSCAR/IMCA races at the famous Riverside County half-mile clay oval. If a single driver wins all four of the Fast Shafts All-Star Invitational ballot qualifying IMCA Modified mains, that driver would take home $6,000.
Through the first two PASSCAR/IMCA races at Perris this year, the $1,500 to win checks in the IMCA Modified division have gone to Austin Kiefer and Jake Pike.
"The intensity of the competition has been turned up several notches this year with the extra purse money up for grabs," promoter Don Kazarian said. "We think it will remain that way all year. If you look at the Modifieds, winners of the first two main events are non-locals who dropped by and picked up some extra cash.
"We expect visitors to drop in all season long to take on the locals," he added. "That certainly adds to the competitiveness and excitement of the racing programs. The main events will pay the same to win at every race except for the October date when there will be more money added."
Spectator gates will open at 5 p.m. Saturday with the first race getting the green flag at 7 p.m. Adult tickets are $20. Kids 6-12 are $5. Children five and under are free. Covid mandates are still in place in the county, thus tickets will only be available online at https://www.tix.com/ticket-sales/pas/7.
There will be no walk-up tickets for Saturday's race. Face coverings and social distancing from other groups in the stands will be required. Also, due to current Covid restrictions, concessions will only be available on the "FANFOOD" app, a free download from the App Store. Fans place orders from their seats and pay on the app. When their order is ready, they will receive a text to go to the designated station closest to the section they are seated in to pick it up.
The fairgrounds charges $10 for parking. Camping on the fairgrounds is available for $25.00 per night beginning at noon on Friday.