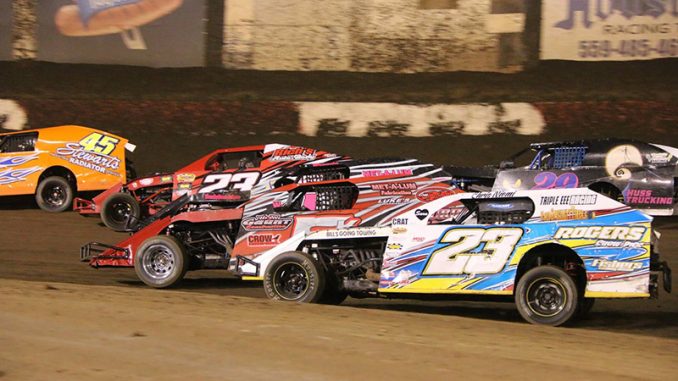 By Scott Daloisio
PERRIS, Calif. – While fans of most race tracks across the nation are months away from the first race of 2018, Perris Auto Speedway fans are days away from the opening races of the year when the Riverside County racing facility hosts Winter Heat featuring the IMCA Modifieds along with Super Stocks, Street Stocks and American Factory Stocks on Saturday and Sunday, Jan. 13 and 14.
The pit gate will open at noon both days, spectator gates will open at 2 p.m. and racing will begin at 3 p.m.
Both days will feature complete shows with heats, "B" mains (if needed) and "A" mains for all clas­ses. The IMCA Modified portion of each show will award IMCA Speedway Motors Weekly Racing National, Larry Shaw Race Cars Western Region, Allstar Performance California State and Perris Auto Speedway track points.
2018 is going to see an expanded season for the IMCA Modified drivers and the drivers from the PASSCAR Super Stocks, Street Stocks and American Factory Stocks series at The PAS.
With the racing weekends during January and February and a race recently added on July 21, IMCA Modified drivers will have five more dates (providing weather does not intervene) than they did in 2017 to earn points by racing at the famous half-mile clay oval. The three PASSCAR clas­ses will have five extra races, three of which will pay points.
"We are genuinely excited about what the IMCA Modified and PASSCAR Series have to offer in 2018," promoter Don Kazarian said.  "The Modified fields have been growing since we brought IMCA back as the sanctioning body in 2015.  We are very pleased with what bringing IMCA back has done for our program.
"In addition, our other classes have also been doing well.  Our PASSCAR Super Stock field has been growing and putting on the best races since the class first began at the track," he continued. "The Street Stock fields remain healthy and we expect bigger fields in the Factory Stocks all sea­son long as well. We expect to see most of our regular stars at "Winter Heat" and hopefully quite a few visiting drivers.   It is going to be a great start to what we think is going to be a great year."
Tickets for the Jan. 13 and 14 races are $15 each day for adults.  For active military members with proper ID, teens ages 13-18 with their school ID and kids ages 6-12, admission is $5.00. Children ages five and under are free.
The fairgrounds is not charging for parking at January's Winter Heat events.
Perris Auto Speedway is located on the So Cal Fair and Event Center, home of October's South­ern California Fair, approximately one hour east of Los Angeles and one hour north of San Diego. To get to the track, take the 215 freeway exit on the Ramona Expressway and go three miles east to the fairgrounds. For directions on MapQuest, the address to enter is: 18700 Lake Perris Drive and the zip code is 92571.