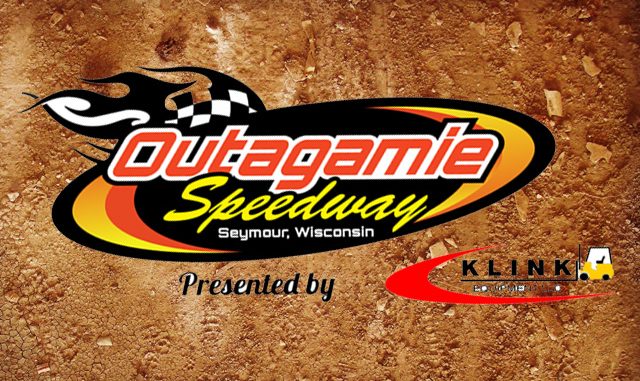 By Edward Anschutz  
SEYMOUR, Wis. (June 4) – One hundred and forty-two racers checked in to do battle at Outagamie Speedway powered by EWSC Friday with IMCA wins going to Wyatt Block Jr., Brandon Czarapata and Jeff Steenbergen.
Rookie Jacob Ambrosious paced the open laps of the IMCA Sunoco Stock Car feature until Chas Van Ooyen took the lead on lap five. Van Ooyen immediately came under fire from Czarapata and Rod Snellenberger.
Czarapata used the low groove to slip by for the lead on lap 10. Czarapata pulled away as Van Ooyen fell to the wayside with a busted tie rod. Czarapata cruised to his second feature in a row. Snellenberger had his best run of the season to place second, Kevin Hebbe came through the last chance qualifier to take third, Travis Van Straten was fourth and Logan Leary completed the top five.
In IMCA Modified action it was Mike Wedelstadt leading the first nine laps until Block used the low groove to get by for the top spot. Marcus Yarie charged to the runner-up position but couldn't find the grip to catch Block.
Block scored his first win of the season and a clean sweep to boot. Yarie was second, Tyler Wilson closed in late to place third, Wedelstadt held on for fourth and Dan Wilcox rounded out the top five. The contest went green to checkered.
Steenbergen made his first visit of the season a successful one as he used a late-race caution to pass Bernie Miller to score the win and a clean sweep in the Karl Kustoms Northern SportMods.