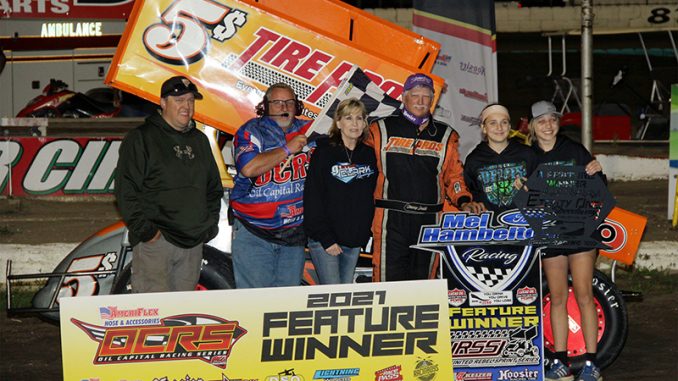 PARK CITY, Kan. (May 22) – Oklahoma veteran Danny Smith came away with the $1,000 victory when the Drive to Zero United Rebel Sprint Series presented by Mel Hambelton Ford combined forces with the Oil Capital Racing Series for a dual sanctioned event at 81 Speedway.
Smith started outside the front row in the 25-lapper and went the distance to win over URSS regular Jordan Knight.
Another veteran campaigner, Danny Wood, raced to a third place finish while Jeremy Huish and Kyler Johnson finished fourth and fifth, respectively.
A total of 35 competitors entered competition. The victory was Smith's 11th in his Oil Capital career.
Feature results – 1. Danny Smith; 2. Jordan Knight; 3. Danny Wood 4. Jeremy Huish; 5. Kyler Johnson; 6. Whit Gastineau; 7. Tanner Conn; 8. Alison Slaton; 9. Zach Blurton; 10. Kyle Clark; 11. Joe Bob Lee; 12. J.D. Johnson; 13. Connor Atkinson; 14. Terry Easum; 15. Shon Pointer; 16. Chris Kelly; 17. Koby Walters; 18. Tyler Knight; 19. Sheldon Barksdale; 20. Jase Randolph.