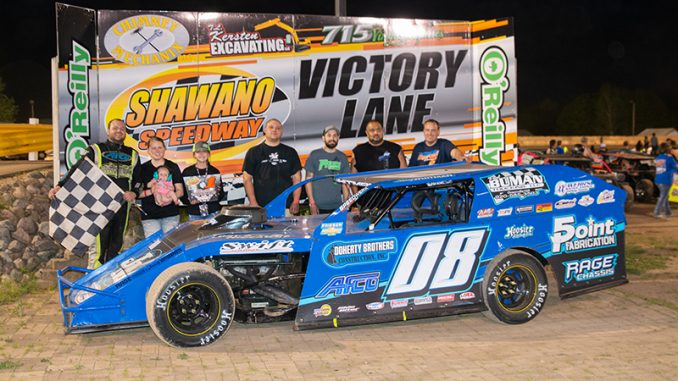 SHAWANO, Wis. (May 22) – A picture perfect night for racing brought a large crowd to the Legendary Half Mile Shawano Speedway and with added money in the IMCA Modified division it wassure to be a big night of racing.
Thanks to Line x Extreme Coating there were 1,000 reasons to win the IMCA Modified feature. Normally a driver leading green to checkered for the win makes the recap a mundane thing to write but not on this night. 
Johnny Whitman took the lead on the opening lap after starting third. Whitman began to power away from the field. With multiple feature wins this season, Mike Mullen was doing his best to entertain as he sliced his way to the front.
By lap six, Mullen made his way to second from 10th. Mullen began to cut into the lead lap after lap and it looked like he would get by the Whitman machine on multiple occasions. Whitman was up to every challenge, however.
A late-race caution gave Mullen one more shot but Whitman was up to the challenge and picked up the Fast Shafts All-Star Invitational ballot qualifying win. Mullen was second with Marcus Yarie third and Lance Arneson fourth.
The Karl Kustoms Northern SportMods got rolling with Jason Jach trying to find a groove after a rough start to the season. Jach grabbed the early advantage despite multiple cautions. While Jach didn't want to see the yellow flag, Jayden Schmidt was happy to see them. 
Schmidt, having started mid-pack, used each caution to shrink the gap to the front of the pack. On lap 10, Schmidt wrestled away the lead and cruised to the feature win. Jach finished with a strong runner-up performance with Jeffrey Teske in third. 
Saturday was no exception to the great action seen weekly in the IMCA Sunoco Stock Car division. One person said "Three wide! Four wide! Arneson wins, period." 
For the first nine laps, Vern Stedjee was out in front of all the change in position behind him. Kyle Fredericks rose to the top on lap 10 and looked to escape. Meanwhile, Chummy Arneson was battling with numerous heavy hitters in three-wide battles that evolved into four-wide wildness. 
Arneson snuck past Frederick with four laps left and drove to the win. Chucky Forstner grabbed third with Travis Van Straten and Trent Nolan using late-race charges to complete the top five.